Every creative person finds it difficult to edit their creations, Dan Povenmire, the creator of Disney's "Phineas and Ferb," told an Oxford audience on Oct. 2.
"Growing up in Mobile, Alabama, I learned how to throw knives really well," Povenmire said. "I used these skills when trying to edit. I would throw a letter opener at a board with parts of the show and whatever it landed on, he questioned if the part could be cut." 
Povenmire told many quick stories about his childhood and career that lent insight into his creative process and how he became successful. 
"You don't need to know how to throw knives to edit, it is just about reducing it to a nonemotional decision," Povenmire continued. "My number one thing I say to new creators is that it would be better if it was five minutes shorter."
Povenmire said his journey began with advanced animal sketches at age two and a published giraffe drawing at age 12; continued through creation of a college comic strip; until he finally created "the most successful pilot ever at Disney" with "Phineas and Ferb."
After his success, Povenmire said he learned that "pitching is the best possible tool. It takes the 'how is this going to be executed' away from executives."
He also said in his career, it had been important to maintain firm control over the creative direction of his projects. "As someone who is not in charge of the money, the most power you maintain is ownership of your show," he said.
"It took 13 years for us to successfully pitch 'Phineas and Ferb,'" said Povenmire. "Stick to it, is what I am saying. Make the show you want to see."
"I wanted to see a show whose main character's head was the shape of a triangle," he said.
As well as serving as a storyboard artist, director, writer, and animator throughout his career, Povenmire voices the role of Dr. Doofenshmirtz, the villain in "Phineas and F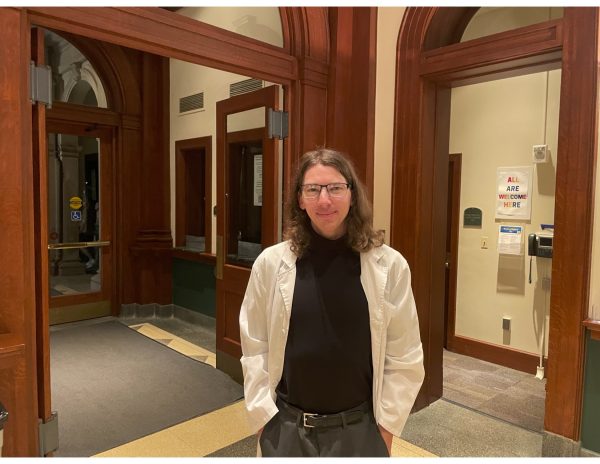 erb." He's also worked on "The Simpsons," "Family Guy," "Spongebob Squarepants," "Rocko's Modern Life" and "Hey Arnold."
Oxford filled the Hall Auditorium for Povenmire's talk, with several audience members dressed in typical Dr. Doofenshmirtz style, a lab coat and a black turtleneck.
One was Noah Hieber, who said "Phineas and Ferb" had a "massive" impact on him. During the question period, he asked Povenmire how to know if a voice acting career was right for him. 
Povenmire recommended the documentary "'I Know That Voice" by Lawrence Shapiro.
"If that doesn't scare you off completely and energizes you, then you know you've found something," he said. 
Associate professor John Tchernev, a member of the Miami University lecture series committee, said the committee tries to bring speakers with broad appeal to campus. 
The next lecture series speaker will be Matt Mercer, an actor who voiced many anime and video game characters. The lecture will be on Nov. 6 at 7:30 p.m. at Hall Auditorium.