Junior Lucia Rodbro led the pack at the RedHawk Rumble cross country meet Sept. 1 with a time of 18:41.53, a personal record of about 20 seconds. Sophomore Adriana Luking followed right behind in second with a time of 19:56.11.
For the boys, junior Bryson Fears took the lead with a time of 17:07.69, a new personal record.
As the 85 degree sun beamed on Miami's course, sweat dripped down senior Naiara Ayo-Belka's face. She said that because of these conditions, she could really feel the camaraderie during the first race of the season.
Before the meet, Ayo-Belka and some of her other teammates created and hung posters around the high school, encouraging people to come.
"We wanted more of our high school to be involved with cross country," Ayo-Belka said. "It's a really great community. I think that's what keeps me with it."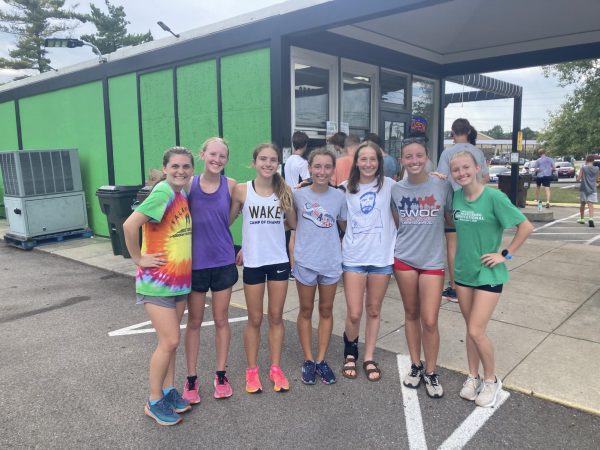 Rodbro and Luking admitted to nerves before the race, but it didn't stop Rodbro coming out first from the gun, nor Luking soaring into second.
Rodbro said she enjoyed the wide and flat course through Miami Natural Areas.
"It's kind of cool, because you can see other people you're racing against and other spectators and coaches the entire time," Rodbro said.
Rodbro said she loves cross country for the different courses. For Luking, it's all about competition.
"That's the reason I want to do it in college," Luking said. "I want to compete. It just makes me feel so strong."
Last year, the girls team made it to regionals. Coach Amelia Oberschlake said her goal this season is to secure that spot again. She also would like to take a full team of boys to regionals, and take both teams to the next level at states.
"Obviously if we can make it to state, that would be awesome," Oberschlake said. "We've got some pretty top runners."
The teams will complete Sept. 9 at Mason, Sept. 16 at Eaton and Sept. 23 at National Trail.