A new restaurant named OxVegas Chicken is opening this fall in uptown Oxford. The restaurant will be located at 48 E. Park Place Ave., across from  Oxford Memorial Park.
Oxford Mayor William Snavely said  the combination of location and menu are advantages for OxVegas Chicken.
"I think it's always great to have different types of restaurants in Oxford, and I do think they've chosen a great location and I think there's plenty of demand for chicken restaurants if they do it right," Snavely said.
The business owners, Jackson Trester and Tyler Storer come from the entrepreneurship program at Miami University. Trester graduated in the class of 2023 this spring, while Storer is a current senior majoring in supply chain operations and entrepreneurship.
The pair met at a business start-up competition that is part of the Farmer School of Business. After the competition, Storer and Trester hunkered down to create a business that they could call their own. Thus, OxVegas Chicken was born.
"We saw a need for food options in Oxford," Trester said. "From there we kind of took it one step at a time to interview people to see what was possible."
The menu will consist of fried chicken strips, mac and cheese, waffle fries and Texas toast. The limited menu will allow the restaurant to minimize food waste and remain open over the summer, Trester said. The restaurant is working on a liquor license to sell beer.
"We hope that we can have a viable option to stay open year-round and not go out of business due to under-serving during certain times of the year," Trester said.
Ordering kiosks inside the restaurant will help solve employment fluctuation between academic and summer months, Trester said. Along with the kiosks, the interior will have tables that overflow outside onto the sidewalk for outdoor seating.
The main funders for the restaurant are Gary and Brenda Palmer, who develop apartments in Oxford. Trester and Storer met the Palmers while trying to find a location for their restaurant. The Palmers then became the largest supporters of OxVegas Chicken.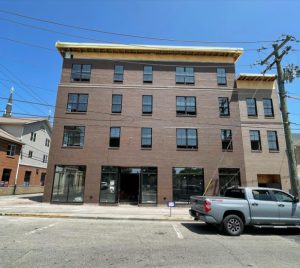 Both Trester and Storer said the business would not have been possible without the Oxford community. Oxford economic development specialist Seth Cropenbaker helped them through the process.
"He was one of the first people we met with when we were just two students with an idea," Storer said. "He gave some great advice on how the city works and what to do and what not to do."
"Oxford has been incredible at helping us put this together," Storer said.
Snavely, a former associate dean of the Farmer School of Business, said that he hopes Storer and Trester set a good example for other Miami students looking to set up shop in Oxford.
"I'm very happy to see students coming out of the school and wanting to do things entrepreneurially here in town and I hope that there are many more to follow," Snavely said.