Talawanda tennis earns second win of season
The Talawanda High School tennis team earned its second victory of the season against visiting Taylor High School April 18, winning 4-1.
The Brave's doubles pairs won their matches in quick fashion, while two singles contests stretched into the evening. Winning an energetic three-set battle on court three was Ryan Hohn, rounding out the contest. The team's only defeat in the match was due to a forfeit.
Talawanda enjoyed a full-strength roster against the Yellow Jackets after illnesses plagued the team the previous week.
 "It was kind of rough," freshman Connor Pulaski said about sitting out due to sickness and hearing about the result. "We just got shut out [against Fairfield]."
Competing shorthanded led to a few losses, but the Brave weren't fazed going into the Taylor matchup.
 "You spin every negative into a positive," coach Pete Thomas said of the bounce-back performance. His players did just that.
The win against Taylor improved Talawanda's overall record to 2-6.  The team remains in third place in the Southwest Ohio Conference (SWOC) behind the Harrison Wildcats, the Brave's only conference opponent and loss so far this season.
Talawanda captain Milo Flaspohler, who won with lots of backspin on his shots, said his play so far exceeds his expectations for the year.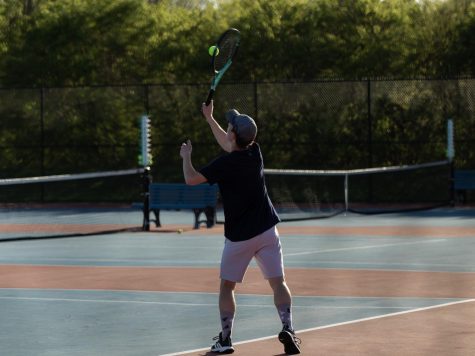 "I thought it was going to be worse than it was just because this is my first year playing number one," Flaspohler said. "I'm honestly still pretty young to be playing number one." The sophomore holds a 4-2 overall record, good for second place in the SWOC.
 The Brave have a busy upcoming schedule with matches slated against Seven Hills (April 21) La Salle (April 24), Mariemont (April 26) and a much-anticipated matchup against the current SWOC-leader Ross April 27.