Talawanda lacrosse snags first victory of season
Smells of concession stand popcorn, mixed with the sounds of buzzing bees served as the backdrop for the Talawanda High School lacrosse team as it notched its first win of the season, defeating Northmont High School 7-5  April 15. 
Talawanda senior attacker Jonathan Hall set the tone early in the home match against the Thunderbolts, netting the game's first goal less than one minute into the game. Hall leads Talawanda with 12 total goals through nine games this season.
"A lot of playing this sport is psychology and momentum and getting that first goal really helped because it's the first time we've done that so it kind of flipped the script in our minds," said Talawanda Head Coach Sawyer Johnson.
With the score tied 2-2 at the end of the first quarter, Northmont took the lead with an early goal in the second quarter. Talawanda responded with three additional goals of its own to end the first half on a positive note.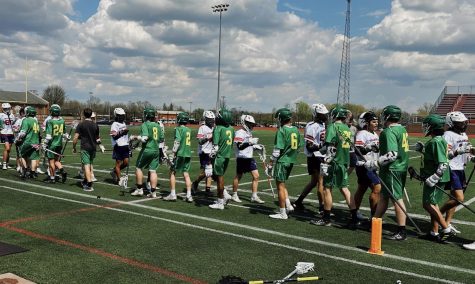 Midway through the third quarter, senior Brave defender Tristan Tincher collided with a Northmont player resulting in a three-minute helmet contact penalty. Although the ball stayed in Talawanda's end during the majority of the penalty disadvantage, senior goalie Craig Catania and the defense prevented the Thunderbolts from scoring.
"It's not over until we get it over to the offense," said Catania. "Just staying with it and not trying to focus on being tired and just focus on what I've learned in practice." 
Both the Brave and Thunderbolts each scored once during the fourth quarter. Hall paced the Brave to its first victory of the season, scoring five goals. Senior attacker Tyler Hazelwood tallied one goal and three assists.
"The biggest opponent is in our head," said Hall. " It shows that we can win games, we just have to know we can and put all our effort into it."
Talawanda's record stands at 1-9 overall following a 13-5 loss April 18 at Madeira High School. The Brave will return to Cincinnati on April 24 for a matchup with Seven Hills.