Talawanda baseball wins home opener against rival
The Talawanda High School baseball team dominated Southwest Ohio Conference rival Northwest High School April 3, winning its home opener 12-1 in five innings. 
"We are kicking on all cylinders," said Talawanda Head Coach Matt Lykins after the game. "That was a big win." 
Senior Conner Brosey pitched a one-run complete game for the Brave. In his second start this season, Brosey scattered three hits and struck out 10.
"It's always a relief, coming out and starting strong," said Brosey. "I feel like we've got a lot of things going for us and we're going in a good direction."
The fourth inning was a big one for the home team as Talawanda put eight runs on the board. The offensive explosion allowed several players a chance to shine. Senior Max Mesler fired up the team's offense with a two-run triple. Senior Logan Smith hit a base clearing double. Smith and Mesler currently lead the conference in RBIs, Smith with six and Mesler with four.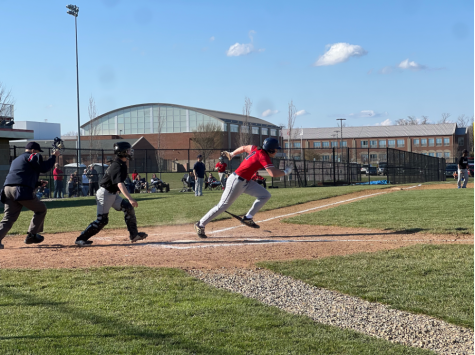 The bases were loaded again when sophomore Eddie Tanner drew a walk, adding another run to the board. The game was called after five innings due to the conference mercy rule.
"It feels good to come out and get a win," said Tanner. "[I'm] looking forward to the rest of the season, and hopefully another win [April 7]."
Coach Lykins said he was pleased with how his team bounced back to snap a three game losing streak and even its overall record at 3-3. 
"They are a team that does not respond to loud coaching," said Lykins. "They want to be supported. They want to feel confident. They want to feel like they're doing a good job. And you can see that."
The Brave has a busy schedule in the upcoming week, including a home and away doubleheader rematch against Northwest on April 7, followed by a home game April 8 versus Oak Hills High School. Talawanda will then play Mount Healthy High School April 10 and 12.