Thomas brings even-keel to 25th year as Brave tennis coach
Pete Thomas stands in the Talawanda High School atrium, slinging a lunch bag. All eyes are on him when a shout rings through the hall.
"What's up Mr. T!"
Thomas nods back. "What's up?"
"Been a fat minute since I've seen you," the student says, wandering into the little assemblage surrounding his business teacher. 
The high schooler asks Thomas about an obligation at the middle school.
"Ah, I volunteered," Thomas tells the inquiring student.
"Oh, you're tired of the people here?"  Thomas hears in response.
"No," Thomas says matter-of-factly. "I hope to retire in three years. Figured I could go to the middle school for a little while."
They slap palms like old friends and the student walks on.
March 6 was sunny and unseasonably warm 75 degrees. A group of boys dotted the school's tennis court, hitting back and forth in pairs to warm up for the first day of tryouts.
Thomas stepped onto the court for his 25th season as the team's head coach. Adjusting his Detroit Red Wings hat, he noted the sunny weather, predicting it'd be the nicest day they saw all year.
"Today we really like to just hit the ball," Thomas said reflecting after day one.
Thomas took the tennis job one year after he started teaching business classes at Talawanda. Students talk to him more like a pal than a teacher, because of his laid-back and personable demeanor.
The upcoming season will be more difficult than those of the past, but Thomas still has faith in his team. A faith that shows on the court, with a clap on the back or a smile.
Thomas' son, Davis, is starting his first season as a freshman. While Davis has never played a competitive match before, he was introduced to the sport by his father. Thomas has taught Davis all the basics to prepare him for the season.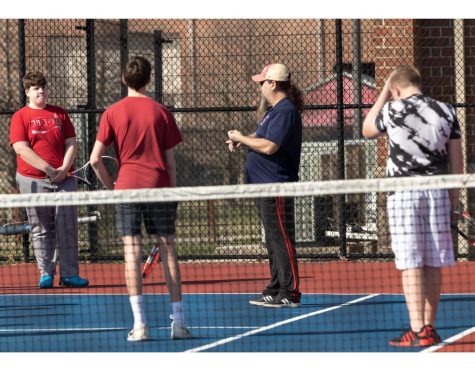 Davis might be his son, but Thomas treats all of his players with the same even temperament — and beneath it, an implicit challenge. He's earned plenty of success in his time at the helm of Brave tennis. Talawanda has won the Southwest Ohio Conference (SWOC) five years in a row.
Looking around on the first day of tryouts, he notes the field's youth. This season's outcome remains uncertain — even more so than the last 15 years, Thomas said.
Their goal of the season is not domination of the SWOC, but Thomas knows his team can "definitely be successful" in this new territory.
Thomas sees through the obstacles ahead and focuses on the team's rebuild. He has faith and high hopes for his athletes. They'll "step up into spots" that they might not be comfortable in, with their coach standing right behind them.