Talawanda track and field runs into spring season
The Talawanda High School Boys and Girls Track and Field teams are gearing up for the spring season with high hopes as a number of returning athletes set their sights on setting new school records in a variety of events.
Girls look to extend SWOC dominance
Since 2017, no Southwest Ohio Conference (SWOC) school has managed to wrestle the league championship away from the Talawanda girls team. Defending the league title is what 2022 SWOC Coach of the Year Brad Hoblitzell says is the standard for the team as it approaches its first meet March 25 at Harrison High School.
"My biggest thing is to keep kids happy and healthy. We want to make sure we are at our best and get some kids to State again," Hoblitzell explained.
 While some athletes competed this winter during indoor track and field, many are just getting started for the spring. To ensure a successful season, Hoblitzell plans to make sure his athletes are not over-extended during March and April in order to be at their best come May. 
Senior Haley O'Brien, a Wright State University Track and Field commit, has plans to finish her final season at Talawanda on top. 
"The past couple of years, I consistently jumped five- foot the past indoor season. My top goal right now is to beat the current school record for high jump," O'Brien said. During her junior year, she beat out a Northwest competitor finishing at 5'03.00 in high jump. On the track side, O'Brien was named 2022 First-Team All SWOC in the 400-Meter dash.
Boys battle for first place finish  
In 2022, the Brave boys team finished runner-up in the SWOC to conference champion Northwest High School. Talawanda saw first-place SWOC finishes in the 100-Meter Dash, 1600-Meter Run, 3200-Meter Run, 3200 Meter Relay and Pole Vault. 
Senior Logan Howard, a Thomas Moore University commit in football and track headlines a talented returning Brave roster. Thomas has been running at Talawanda since his sophomore year, competing in the 100-Meter (2022 First-Team All SWOC), 200-Meter and 400-Meter. In his final season at Talawanda, Howard plans to compete in the long jump. 
This season Howard has his sights set on not only breaking his own personal record but the school record in the 100- Meter dash. Completing the sprint with a time of 10.88, Howard looks to do even better this spring. "I was 0.06 off of it. I'm hoping to break that," Howard said.
 In addition to the 100, Howard has his sights set on more records to break. "For the 200, I'm looking to become first overall in that," he said, smiling with confidence.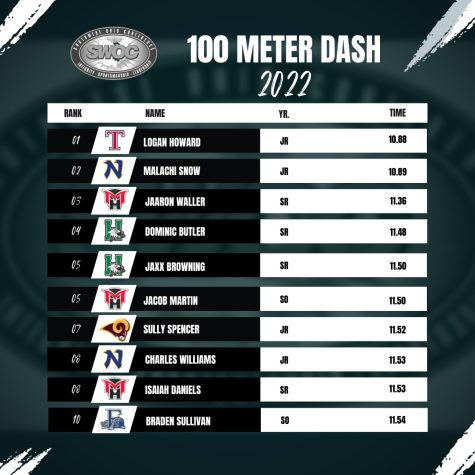 Joining Howard on the 2022 SWOC First Team were freshman Max Bixler (3200-Meter) and junior Henry Hoblitzell (pole vault). 
Senior hurdler Julio Fuentes, reflecting on his previous seasons, believes he wasn't necessarily running to win but was running for his team. "I see the finish line. I don't know if I wanna go faster or go slower. I'll always love track and the family type of setting it is," Fuentes offered when thinking about his upcoming final season at Talawanda.
Talawanda will host the 2023 Dale Plank Invitational April 18. The SWOC Championship will be held at Talawanda and Northwest High Schools May 9 with the District Championship scheduled for May 17 and May 19 at Ross High School.