At the start of season, Talawanda Lacrosse brotherhood runs deep
 Talawanda High School Brave lacrosse team is back and hopes to improve on a 5-13 record from 2022. 
The bond between teammates is apparent on and off the field as the season started.
Tough competition 
Because Talawanda lacrosse is not part of the Southwest Ohio Conference (SWOC), the Brave compete in Region 8 – which often features tough competition in the form of public and private schools from both the Cincinnati and Dayton areas.
"I don't care that we're not in a conference, we can be independent," said second-year Head Coach Sawyer Johnson. 
"We can usually schedule people we wouldn't be able to schedule, kinda the Talawanda against the world mindset." 
The Brave return with plenty of talent as it prepares for the 2023 season, including senior attacker Jonathan Hall and junior Sam Olenick. Hall led the Brave with 47 goals last season while teammate Olenick netted 27 goals and 25 assists in 2022. The duo is expected to lead the team's offensive attack again in 2023, according to its coaching staff.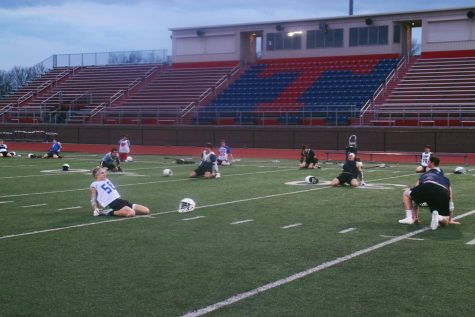 Making up ground 
After the middle school feeder program was canceled due to COVID-19, many boys missed the opportunity to develop lacrosse fundamentals at a younger age. This setback caused the high school program to suffer, according to Johnson. The high school head coach has made it his mission to rebuild the program and is starting to see results as last year the Braves had around 20 boys on the team while this year the number has expanded to around 30. 
Many of the high school's returning players utilized the off-season program to better their stick skills and grow stronger. Now the team wants to see its hard work pay off, including senior goalie Craig Catania. 
"Last year everyone saw Talawanda as 'oh we can easily beat them' but now I kinda want it to be like 'oh Talawanda, we gotta watch out for them," said Catania.
More than teammates 
The Brave's dedication to their sport stems from a family-like unity. 
"It's really like a big family, I know that's cliche to say but it feels like that, and we all love each other," said Catania.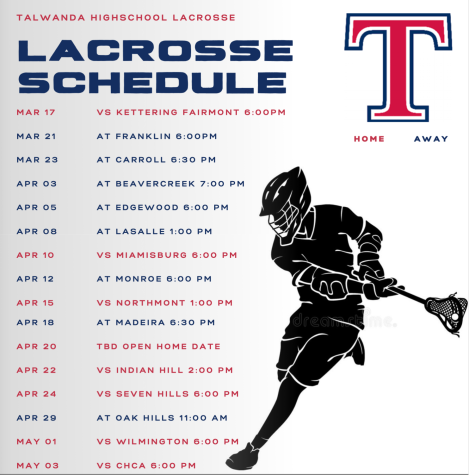 Each year the seniors take on a leadership role. Last year's seniors left such an impression that the underclassman created a shrine in the locker room to honor them. The shrine consists of the senior's banners and an athletic cup. 
"I think all of our seniors do a really good job at trying to help all the underclassmen and all the new players," said Catania. "But I think being a goalie you are seen as the leader because you can see the whole field from a different perspective." 
"What we can control is how we act at practice, how we play at games and how we come together as a team," said Johnson. 
Talawanda's 2023 season starts at home on March 27 against Kettering Fairmont High School. The Brave will play 16 regular season games this year including new matchups this year against Indian Hill and returning rivals Edgewood, LaSalle, and Cincinnati Hills Christian Academy.