Miami basketball hopes to bounce back this season
The Miami University Men's Basketball team begins its season Nov. 7 with a new coaching staff, new players from the transfer portal and a new identity.
After a 14-18 record last year, the team is focused on starting anew. Miami hired head coach Travis Steele over the summer to take the reins for the Hawks. Miami has added three new transfers to the roster: Anderson Mirambeaux from Cleveland State, Morgan Safford from Wofford College, and Julian Lewis from William and Mary. Mirambeaux was a package deal, as associate head coach Rob Summers, former head coach at Cleveland State, was also added to the coaching staff. 
"We have changed the culture this year," said sophomore forward Curtis Harrison IV. He said that under Steele, the RedHawks have focused on discipline and built a culture around Miami basketball.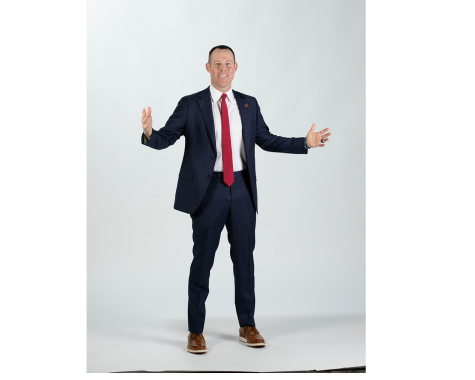 Steele places signs in the locker room that preach respect, hustle and discipline, said Harrison. "Coach thinks it's important that the team has an identity of who we are as a program," he said.
Coach Steele said he wants his team to be the most connected team in the MAC. "Every good team has an identity… and if you can't put a finger on it you probably aren't very good," Steele said in a press conference.
With fresh faces on the roster, the RedHawks have worked hard to build a relationship, said Harrison. Two of Miami's three team captains came from the transfer portal and are new to the program this year. Steele said redshirt junior Morgan Safford, a transfer from Wofford, is expected to step up and be a leader this year. 
"Morgan likes to talk a lot of stuff, but backs everything up with his game," said Harrison. Harrison also said Safford is one of the hardest working players in the gym and is constantly putting in extra work.
Miami does have one captain returning this year. Fifth year senior Mekhi Lairy will be using an extra year of eligibility to return for the red and white. According to the Miami University Men's Basketball website, Lairy is on pace to break Miami's all-time record for games played this year. 
"We have a lot of guys who can play college basketball," said Steele in a press conference. This is a very new roster, but the RedHawks are anxious to get out and play some competition.
The Redhawks tip off at 8 p.m. against the University of Evansville Purple Aces at Millett Hall.