Oxford Empty Bowls helps community through soup
This year the Oxford Empty Bowls event will celebrate its 20th anniversary.
Oxford Empty Bowls is a benefit soup luncheon where guests choose a handmade or hand-decorated bowl. They get a lunch of soup, bread, dessert and a beverage. The luncheon helps build community by bringing together people from all areas of the Oxford and Miami University communities, organizers said. 
The event this year will be from 11 a.m. to 2 p.m. Saturday, Nov. 12 at the Oxford Community Arts Center, 10 S. Campus Ave. Each guest gives a $15 donation for a bowl and lunch. Children eat for free, bowl not included. This year, there will be no charge for veterans. 
The annual event offers four varieties of soup: Mexican chicken and tomato, vegetarian vegetable, vegetable beef, and lentil. Local cooks are invited to contribute their specialities. More than 200 volunteers help each year. 
Over the last 19 years, Oxford Empty Bowls has raised $126,414. All of the money raised goes to five area organizations: Talawanda Oxford Pantry & Social Services, St. Mary's Backpack Program, Miami Cares Food Pantry, Open Hands Food Pantry and Talawanda School District's Little Free Pantry Program.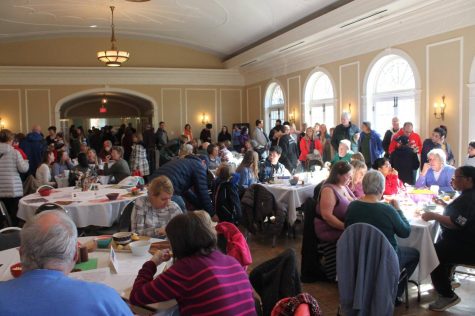 Event co-organizer Connie Malone said that Empty Bowls has four purposes. "The first one is as a fundraiser to raise money for these hunger organizations; the second is to raise awareness of the problem; the third is to build community by involving as many people as we can in this event; the fourth is to engage the local art organizations in a service learning project," she said.
Oxford Empty Bowls began in 2002, the inspiration of Camilla Flinterman and Alice Laatsch. Hosted for many years at the Oxford United Methodist Church, as the local event grew and expanded, it relocated to the Oxford Community Arts Center to accommodate larger crowds and further its connection to the arts. Oxford Empty Bowls had online bowl sales with no lunch in 2020 and 2021. 
From 2002 through 2014, the fundraiser's primary source for bowls was Miami University art professor Dennis Tobin and his ceramics students, who made and donated about 600 bowls each year. 
Other sources for bowls are Jim McWilliams and Talawanda High School ceramics students, those donated by a number of talented local potters, and those provided by Cincinnati Empty Bowls and Mason Empty Bowls. 
For several years, student and community groups have gathered in Oxford's uptown pottery studio You're Fired to paint bowls for the event. In 2016 and 2018, Miami University's Institute for Learning in Retirement made and contributed bowls.
Wooden bowls are donated by members of the Ohio Valley Woodturners Guild for a silent auction.
The other organizers of Oxford Empty Bowls are Rob Abowitz, Ann Wengler, Kourtney Spaulding, and Laatsch. 
Empty Bowls is an international hunger relief effort started in 1990 by a Michigan art teacher named John Hartom. Hartom sought a creative way to involve his students in a local food drive. Empty Bowls events are now held across the United States and in twenty different countries.