William Hargraves, 86, Remembered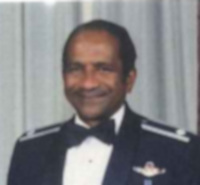 Air Force Lieutenant Col. (Ret.) William Frederick Hargraves II, of Oxford, served his country as a pilot and his community as a teacher and mentor.
Hargraves, 86, died Jan. 21 in a nursing home in Beavercreek, Ohio.
He was born in Covington, Ky., to William and Annie Leona Thomas Hargraves, who both were educators at Covington's Lincoln-Grant School. He attended Lincoln Grant grade school and graduated as the valedictorian from William Grant High School. He then attended Miami University, graduating Phi Beta Kappa with a bachelor of science degree in education. He was then commissioned as an officer in the United States Air Force.
Hargraves' 30-year Air Force career included service in Vietnam, a stint as commander of the 20th Military Airlift Squadron, a Miami University ROTC assistant professor of aerospace and many other postings. He received the Distinguished Flying Cross, The Air Force Commendation Medal and several other decorations.
Following his career in the Air Force, he became an assistant professor and assistant dean of arts and sciences at Central State University, where he mentored many students for 28 years, including several athletes in the Track and Field Program.
He served as a trustee emeritus at Bethel Church in Oxford, where he sang and played the piano, according to his family.
He is survived by his wife, Gene Hargraves; sons William Hargraves III, Jock Hargraves and Charles Hargraves; step-daughters Morgan Medious and Meggan Johnson; foster brother, Leon Robinson and seven grandchildren.
Visitation will be 10 a.m. until noon, Saturday, Jan. 26, at Bethel AME Church, 14 S. Beech St., Oxford, followed by a funeral service at the church. There will then be a funeral procession and interment at Woodside Cemetery, on Chestnut St., Oxford. After the services, family and friends are invited to gather at the church from 2 p.m. to 3:30 p.m. for a celebration. Ogle and Paul R. Young Funeral Home, Oxford, is handling the arrangements.
‍