RedHawks lose home games in doubleheader
The Miami RedHawks baseball team dropped both games of a doubleheader at McKie Field on Sunday, April 10 against Mid-American Conference (MAC) foe Eastern Michigan.
After pitching dominated a 3-1 opening game loss, both teams flipped the script, seeing their offenses come to life in the finale. The RedHawks started strong with infielder Brian Zapp scoring the game's initial run in the bottom of the first inning. Senior Cole Andrews extended the lead with a three-run home run in the third inning.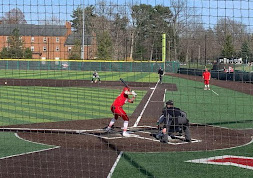 "I feel good in the box right now," Andrews said. "Like always, there's still some things to improve on, but I feel like I am in a good place right now." 
It was a game of push and pull through the first six innings as Miami headed into the seventh inning with a 7-6 lead. But the top of the seventh brought bad news for the RedHawks. The Miami pitching staff issued four walks, one hit by pitch and a grand slam from EMU right fielder Logan Hugo, allowing the visiting Eagles to turn a one run deficit into a 13-7 lead. 
Trying to dig themselves out of a big hole during the final three innings, the RedHawks responded with three runs in the bottom half of the same inning, including a two-run home run from sophomore catcher Dalton Back. But Miami's fate was sealed in the top of the eighth inning after EMU added another run following another RedHawk walk and hit batter. The final score in Sunday's finale was 14-10. 
"We gotta dig in, we gotta get better and stay bought in to what we are trying to do every day," Miami RedHawks head coach Danny Hayden said following Sunday's sweep. "The guys will do it, they care, they work really hard. These are tough days to get over quickly but that's part of being a college baseball player." 
During the four game series against EMU, the RedHawks won the opener 11-5  Saturday, April 9 and dropped the finale 12-7 Monday, April 11.
"It was different efforts, we didn't swing the bats very well in the first game and lost, and we swung it OK, but didn't pitch it very well at all in the second game and lost, so obviously a frustrating day of baseball for us," Hayden said. "We didn't do anything near well enough to get one win, let alone two." 
With an overall record of 12-19 and 8-11 in MAC play, Miami hits the road, traveling to Western Michigan University for a four-game series April 15-17.