Talawanda runner leads team in senior season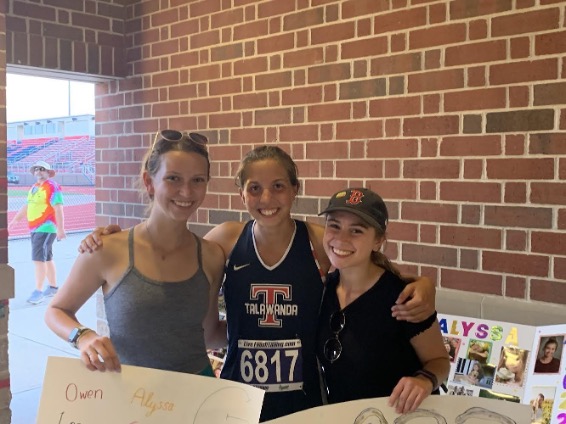 Officials yell a list of commands, a gun fires off and runners dash down the track. But Hannah Lippincott, waiting for her race, doesn't hear any of it. 
It's a normal race day for Lippincott.
She stands in the field in the center of the track alone, away from all teammates and opponents. Spikes laced, legs warmed and stretched, as the sound of Fall Out Boy plays through her headphones. Isolating herself and focusing on the upcoming race is what she says is the best recipe for her success. 
As a senior at Talawanda High School this year, Lippincott is an established star in the Southwest Ohio Conference SWOC). As a junior, she led the 2021 Talawanda girls track and field team to its third SWOC title, while also capturing the SWOC girls track athlete of the year award. Now in her final season she poses a triple threat to conference foes, competing in 800, 1600 and 3200-meter races.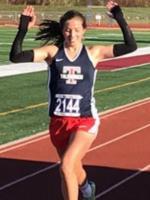 As dominant as she has been as an individual runner, Lippincott says her primary focus is on the team she leads. 
"For SWOC, it's mostly just like how can I get the most points I can for the team to win?" Lippincott said. "Our team won SWOC that year (2021) too, and that was honestly more of what I was focusing on than like winning SWOC athlete of the year." 
Lippincott started running competitively during middle school, after a couple of her friends joined the team. After quickly dropping times in her first year of competing, she became motivated to continue. 
Though most track events involve single athletes running individual races, Lippincott said she believes that it is actually more of a team sport than people realize. 
"I like the team aspect of track, because since it's a smaller group, I've had the same teammates for almost six years," she said. "I just like how everyone is super competitive, but we understand what everyone is going through, so we all support each other."
She said she feels a strong sense of responsibility to the team especially at meets where the number of events she is scheduled to run can feel overwhelming.
"It's just going to bring the team culture down if you complain about it, so you just have to push through it and respect your coach's decisions," she said. 
Lippincott's hard work and ability to persevere do not go unnoticed. 
"Hannah is one of the most coachable athletes I've ever coached," said Brad Mills, the distance coach at Talawanda. "She wants to be knowledgeable; she not only wants to know what she's doing, but why. She wants to know what will make her better and she's extremely tough."
What makes Lippincott stand out as an exceptional athlete on the team to those who surround her is her ability to remain humble, even when she is often leading the pack in a race. 
"Just don't be cocky," Lippincott said. "Just support each other, talk to everyone and congratulate your teammates after their races." 
Lippincott and teammate Ellie Garland have been friends since the sixth grade. When they are not together on the track, they can be found attending Cobblestone Church, going on hikes or watching a movie together on a Saturday night. 
Garland said she is not only impressed with Lippincott's athletic ability, but her academics as well. She ranks high in her class. 
"She's a good athlete because she's very good at perseverance, but she does it in every aspect of her life, whether it be in school, any health challenges, and obviously, running," Garland said.
Aside from being a star on the track, Lippincott runs cross country in the fall, swims in the winter and is a member of the National Honor Society.
"It's easiest to be competitive when you stop focusing on how bad it is, and instead focus on the people either in front of you or behind you," Lippincott said. "I have to tell myself to enjoy it a lot when it's hard, basically I just tell myself to get to the end, just keep going."
Her schedule will only get more hectic in the upcoming months. 
In the fall, Lippincott plans to attend Miami University as a RedHawk track and field preferred walk-on.
"I'm excited to train with people who are faster than me, to have people to look up to, and to have them motivate me to be better," she said.