With Ohio primary election nearing, redistricting conflict raises ballot questions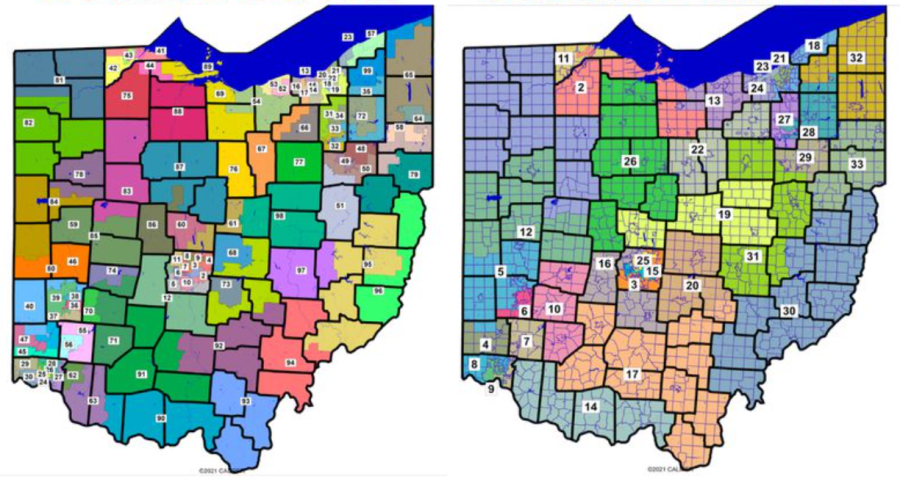 As of Friday, April 1, the Ohio primary elections will be May 3. However, ballots will not include the races for the Ohio House, Ohio Senate and State Central Committee, according to the Butler County Board of Elections (BCBE). 
On March 16, the Ohio Supreme Court invalidated maps for the Ohio General Assembly that were passed on Feb. 24 due to being unfairly weighted to benefit Republicans. This gave too little time for the maps to be redrawn and approved before ballots need to be printed for the May 3 election. A date has not been set for the Ohio General Assembly primary races. 
"There has been so much uncertainty surrounding the elections, that I believe as the primaries start, it's definitely going to result in voters being confused about the process," BCBE Deputy Director Eric Corbin said. 
Typically, August is the next month that localities have the opportunity to schedule a special election. Corbin said it is unclear at this time if the primary election for the General Assembly would not be until then, or if a different date will be set. 
Shortly before midnight on Monday, March 31, the Ohio Redistricting Commission (ORC) passed maps for the Ohio House and Ohio Senate that were only slightly different than the ones struck down by the Ohio Supreme Court on March 16. The only difference is that a handful of Democratic districts now lean slightly more Democratic. 
The ORC had hired independent map makers, one Democrat and one Republican, but when they had not produced maps by Monday evening, the Republicans in the ORC ordered their staff to make changes to the old maps. These maps were passed Monday night. 
The independent map makers did produce maps around 11 p.m. on Monday, but the ORC declined to vote on them. 
"The Republican-led Ohio Redistricting Commission has been an absolute failure. Day after day, Republicans in the ORC, and the Ohio House, and the Ohio Senate, have failed their duties to voters who voted for a fair redistricting process twice," said Sam Lawrence, a Miami student running unopposed in the Democratic Primary for Oxford's house district. 
Under the maps that were passed, he would face either incumbent Sara Carruthers or her challenger Cody Harper in November, both Republicans. 
"I am saddened we won't all be together on May 3," Carruthers said. "It causes problems for voters. But, there's nothing I can do about it, because I have to go by the rule of law. All I care about is my constituents." 
Both Lawrence and Carruthers said they feel their campaign staffs are working double time, because they are trying to reach constituents in their current district, and those nearby in case the districts change once again. 
She said she doesn't think the current situation could have been avoided. 
Some Republican lawmakers have suggested that Ohio Supreme Court Chief Justice Maureen O'Connor should resign or be impeached. Carruthers said this would just cause more chaos as the redistricting process is still not complete, but said she doesn't think O'Connor "belongs on the court anymore," because her and her colleagues are "obstructionists." 
Four Republicans voted for the maps: Gov. Mike DeWine, Secretary of State Frank LaRose, Senate President Matt Huffman and Speaker of the House Robert Cupp. Three members of the ORC voted against the maps: Democrats Allison Russo, who is House minority leader, Senator Vernon Sykes, and one Republican, State Auditor Keith Farber. 
This is the fourth round of maps passed by the ORC. Because they did not pass with bipartisan support, they will only be in place for four years. They could still face legal challenges. 
"I'm not 100% convinced that there won't be another change in the coming days," Corbin said. "I certainly hope that by the time early voting starts there's no changes, because that seems like that would be a pretty bad line to cross. But that's not my decision." 
Early voting begins April 5. The schedule can be found on BCBE's website.