Miami freshman launches campaign for Ohio House
Miami University first-year Sam Lawrence launched his campaign to represent Oxford in the Ohio House of Representatives Tuesday, Feb. 15.
Although the redistricting process is still ongoing, Oxford will likely be in District 44, which will encompass Oxford, Reily, Fairfield and Hanover Townships, as well as the city of Hamilton. He will run as a Democrat.
Oxford is currently represented by Thomas Hall, who is from Middletown. When he elected in 2020, Hall became the youngest member of the House at 25-years-old. Like Lawrence, Hall ran his first campaign as a college student when he got elected as Madison Township Trustee at 20-years-old. Hall will now be in a different district because of the redistricting.
Lawrence is 18-years-old but will turn 19 before the Nov. 8 election. He said he sees the fact that he is new to politics a good thing. 
"I think that in the Ohio statehouse there has been a rich history of corruption, especially with Republicans," Lawrence said.  
He said he thinks the values of most voters do not match up with the values of most politicians in Ohio's government.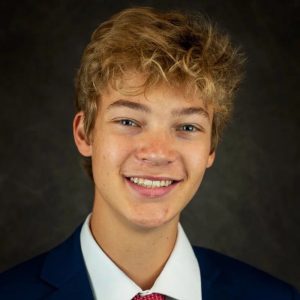 Originally from Maumee, Ohio, a southwest suburb of Toledo, Oxford is now his legal place of residence. He said he decided to run to represent Oxford, rather than Maumee, because he spends most of the year in Oxford, and he has a close friend from home who is a graduate student and running to represent Maumee's district.
Lawrence is a political science major and vice president of Miami's College Democrats. He is also active with Miami's Office of ASPIRE, which works to streamline the university's connections in the fields of business, government and the community. 
If elected, he said he would continue to live in Oxford, but would likely have to take classes online to fit into his schedule. 
He got his start in politics by volunteering for Pete Buttigieg's 2020 presidential campaign. After Buttigieg dropped out of the Democratic primary race, Lawrence volunteered for Joe Biden's presidential campaign. He has also worked on Alison Russo's (D-24) campaign for the Ohio House of Representatives, and he is a Miami University fellow for Tim Ryan's campaign for Senate. 
His launch was digital, on his website and social media, but Lawrence said he hopes to have a virtual or in-person event soon. 
On his website, he has outlined six key policy areas that he will focus on if elected: 
Fighting for the environment and against climate change 

Affordable healthcare 

Expanding Ohio's economy

Quality public education 

Supporting workers' rights by supporting unions

Transparency in government
"My No. 1 policy, until it is fixed, will be the environment," Lawrence said. "I believe that unless we vote on the environment and create a policy that works, we won't have an Earth to vote on other policies."
He said he wants to work with various groups in Ohio with diverse backgrounds, such as the EPA and Ohio farmers, to create an environment that is best for everyone.
Miami sophomore Grace Brunton is the campaign's director of outreach. She is a double major in social work and international studies from Worthington, Ohio. She met Lawrence when she was the president of College Democrats last semester and encouraged him to run for the House. 
When Lawrence was deciding whether to run or not, he said he did face moments of self-doubt when he wondered if he could make a difference. Ultimately, he decided that the younger generation should have more representation in government. He said it is also important that a serious candidate run as a Democrat. He faces no primary challengers. 
"Even before this race, Sam has always been the type of person who wants to get as many people involved in politics as possible," Brunton said. "He's the only Democrat running in this race, so I am excited to try and get more progressive people, especially progressive young people, in these powerful seats. As young people, we make up so much of the population and are impacted by so many decisions that we don't have a seat at the table for."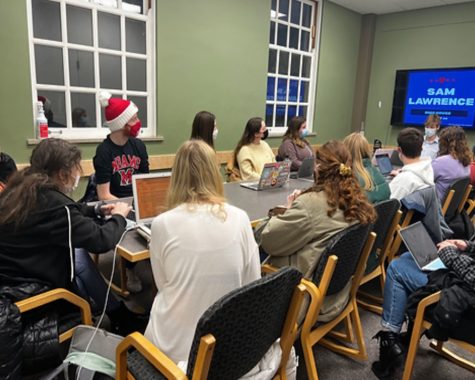 He decided to run in early January and has since been putting together a team of more than 20 Miami students to help, and is always open to more volunteers. 
Currently, two Republicans are seeking the nomination to run in the newly-confirmed district. Sara Carruthers is from Hamilton and has served two terms in the Ohio House. The other is Cody Harper, a real estate agent and account manager. They will face each other in the May 3 primary.
The Ohio Redistricting Commission failed to pass new maps Thursday, Feb. 17, violating an Ohio Supreme Court order, which declared the previously passed maps unconstitutional. There has been discussion of moving the primary date as a result. This would take passage of a new law by the Ohio General Assembly. 
"If the current redistricting stands and a Republican were to get elected to this district, our representative would be Sara Carruthers. I think if you do your own research you will agree with me that she sponsors unsafe and unfair bills all the time," Lawrence said. 
He has singled out Carruthers several times on his website and his campaign launch video. Lawrence pointed to the fact that she supported House Bill 6, which is at the center of the bribery scandal involving former Speaker of the Ohio House Larry Householder. He said he thinks this is "one of the worst" pieces of legislation to be passed. 
Carruthers also is a primary sponsor of H.B. 109, which just passed Wednesday. This bill dictates that charges involving rioting will now be felonies. Ohio law defines a riot as four or more people engaging in disorderly conduct, which Lawrence said is too broad. He sees H.B. 109 as an attempt to limit free speech in the state. 
Lawrence said he  plans to focus his campaign in Oxford and the areas outside of Hamilton, which are represented by Hall or Jennifer Gross until 2023. 
The Lawrence campaign has already hit some challenges. Because he is a first-year at Miami, he must park his car in a satellite lot, which can make getting out to campaign hard. 
He has a campaign finance committee, but until he opens a campaign account next week, he can accept only pledge donations. 
Lawrence said he wants his campaign to be a grassroots effort, because he sees big corporate donations as a problem. However, he said he wants to play on a leveled playing field, so he will accept corporate donations if that corporation aligns with his values. He said once he is in office, he will work to minimize the ability of big businesses to make donations. 
He said he also worries that his age may turn voters off, because he said many may correlate age with inexperience. 
"The way we get people to take us seriously is the fact that we take ourselves so seriously," Brunton said.
Lawrence has not been officially endorsed by any other candidates, politicians or organizations to date, although he has been getting advice from several. He said he knows Toledo Mayor Wade Kapszukiewicz personally, and he has been very helpful with any campaign questions Lawrence may have.
He said he is also getting advice from the Butler County Democrats and the Butler County Progressive PAC. Lawrence said he hopes these connections help show that he is taking this race seriously. 
"My message to all the college students out there, especially at Miami, thinking, 'I can't make a difference:' You can. Join organizations, whether it's College Democrats or College Republicans. Join a campaign. Civic engagement is a duty for all, especially for young people," Lawrence said.