Miami drops mask rules as COVID-19 cases decline
Mask restrictions have eased again in Oxford this week as COVID-19 cases continue to decline. 
As of Wednesday, March 9, Miami University no longer requires masks indoors in most settings campus-wise, including during classroom instruction. However, some faculty and staff may continue to request that others wear masks in individual classrooms, research labs, or offices, according to Miami's COVID-19 Campus Update.
Last week, Miami changed its masking requirements from requiring them to be worn inside all campus buildings, to requiring them only to be worn inside classes and labs during instructional periods. Miami has been matching its rules to the Centers for Disease Control (CDC)'s community guidelines. Mask mandates ended in the City of Oxford and within the schools of Talawanda School District on March 1.
The CDC's mask guidelines, issued Feb. 25, designate counties as low, medium, or high risk from COVID-19. As of Wednesday, March 3, Butler County is designated at a low risk.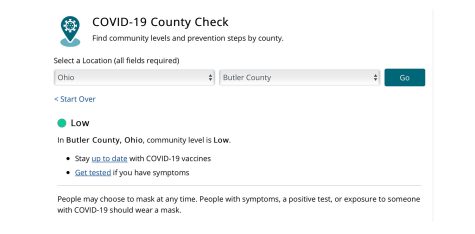 At high risk (red), masks are required indoors in all locations on campus. At medium risk (yellow), masks are required in classrooms during instruction and recommended indoors elsewhere. At low risk (green), masks are optional on campus. 
However, masks may still be required in some settings, such as clinical healthcare facilities, some lab and research spaces, and on public transportation. 
Miami will update the community about the campus' status each Wednesday. 
Miami is no longer maintaining its Oxford Campus COVID-19 Dashboard because of the prevalence of at-home tests that do not represent a comprehensive view of cases on campus, according to the dashboard. 
The university urges the community to visit the Butler County COVID-19 Dashboard for up-to-date statistics. 
Butler County General Health District reported 207 cases of COVID-19 between Feb. 20 and Feb. 26, according to its weekly update released March 4.  Butler County's COVID-19 numbers are now classified as 'substantial' spread with a 'moderate' positivity rate by the CDC. 
Butler County has a positivity rate of 5.52%, down from 7.66% from the previous report. 
The Ohio Department of Health verified 1,099 COVID-19 related deaths through the pandemic, 20 more than the previous report. 
The CDC announced Thursday, March 10, that at its recommendation, the federal Transportation Safety Administration (TSA) extended the mask mandate for people on public transportation and in transportation hubs until April 18. 
Every home in the U.S. is now eligible to order two sets of four free at-home rapid COVID-19 antigen tests from COVIDtests.gov as part of the Biden administration's effort to increase COVID-19 testing. President Biden announced this program during his State of the Union address Tuesday, March 1.