Oxford mask mandate will end March 1
Oxford's mask mandate will end March 1, but residents will have to endure it until then. The rate of COVID-19 transmission, though declining, is still high, members of City Council said at their Feb. 15 meeting. 
Butler County General Health District reported 1,166 new cases of COVID-19 between Jan. 23 and Feb. 5, according to its weekly update released Feb. 11. The county reported 304.3 cases per 100,000 people for a positivity rate of 21.75% during the reporting period. Even though there appears to be a notable decline in cases, the positivity rate, and test volume from the previous weeks, the incidence remains high, according to the report. 
Residents in the 45056 zip code, which includes the City of Oxford, reported 130 cases from Jan. 23 to Feb. 5, a decline of 57 cases from the previous report. The 45056 zip code remains in a high spread transmission rate. 
The county also reported 1,020 verified COVID-19 related deaths since the beginning of the pandemic, 15 more than the previous report. 
The county's declining figures reflect national COVID-19 rates. 
As of Monday, Feb. 14, McCullough-Hyde Memorial Hospital in Oxford had two COVID-19 patients: one from Liberty Township and one from Preble County, said City Manager Doug Elliott at the council meeting. Elliott said he received the information during a regular briefing from Hospital CEO Michael Everett. 
Everett reported that McCullough-Hyde is getting back to normal, Elliott said. He also said the hospital is reducing its COVID-19 drive-through testing from five days a week to three days, hoping to eliminate it altogether within a week or two. 
Miami University updated its COVID-19 Oxford Campus Dashboard on Tuesday, Feb. 15, reporting that there were four new student COVID-19 cases and no reported cases for employees since Monday. There are 18 residential students in isolation and 110 available beds remaining. 
The university still plans on keeping its mask mandate until the rate of transmission is below the 'high spread' threshold for both Butler County and the 45056 zip code, according to Miami's COVID-19 Campus Update released Feb. 16.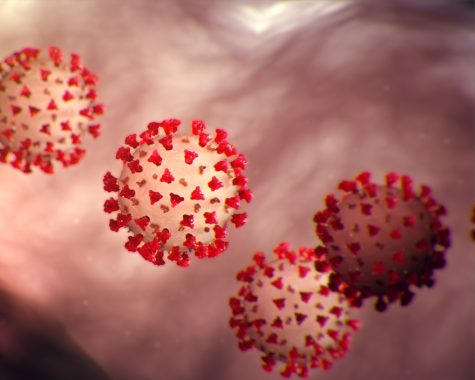 City Council reinstated its mask ordinance Jan. 18, with the surge of the Omicron variant of the virus. The ordinance was to remain in effect until March 1. As a result of the reinstatement, the Talawanda School District extended its mask mandate for all schools in the district until March 1, because three of the five schools are located within the city limits. 
Ending the mandate can't come soon enough for some residents. Several members of the public addressed council at Tuesday's meeting and demanded that the mandate end immediately.
"You all need to realize the impact that you are putting on this community and children like [my son]," said resident Chris Williams. 
Williams' first grade son is exempt from wearing a mask but is bullied for taking it off to have a breath of fresh air, Williams said. As Williams expressed his outrage at the podium, his son stood next to him holding a sign urging an end to the mandate.  
"[Talawanda Superintendent] Ed Theroux hides behind all of you," Williams told the council. "You all need to do an emergency vote. It's ridiculous." 
To remove the face mask ordinance before March 1, at least six of the seven council members would have to agree. However, only three councilors specified they wanted it removed early: Councilor Amber Franklin, Councilor Glenn Ellerbe and Mayor William Snavely. The remaining councilors did not express their interest either way.
Ellerbe, who supports vaccinations and, like the rest of council and most of the audience, wore a mask at Tuesday's meeting, was the only member of council to vote against the mandate in January. He said he supports the use of masks, but thinks it should be voluntary.
But Ellerbe also said there were not enough votes to end the mandate early. He urged Williams and others in the audience to put up with the ordinance for a few more weeks.
City council confirmed the mask mandate will expire March 1, as extending it would require six of the seven councilors to vote in favor.