Area still has 'high spread' rate, but Omicron cases decline
Butler County General Health District's COVID-19 Report released Monday, Jan. 31, indicates local transmission rates are classified as 'high spread' by the CDC, meaning that there are over 100 cases per 100,000 residents. The rates also have 'high positivity," meaning more than 10% of tests are positive, the report said. 
Butler County's new cases over seven days indicates that there are 1,152.6 cases per 100,000 residents, and a positivity rate of 16.9%, according to the report. 
Butler County's figures reflect national figures, according to the report, where there appears to be a decline in cases from previous weeks. 
Butler County reported 4,416 new cases from Jan. 9 to Jan. 22. The county also reported 967 Ohio Department of Health verified COVID-19 related deaths throughout the pandemic.
"Following months of the increase of COVID infections that we've seen with this omicron surge, it appears that we have hopefully seen the worst of it," said Michael Everett, president and chief operating officer of both McCullough-Hyde Memorial Hospital, in Oxford and Bethesda Butler Hospital, in Hamilton. "We are really starting to steady out and see the numbers dropping or even being flat." 
As of Tuesday, Feb. 1, McCullough-Hyde had 10 COVID-19 patients, one from each of the following areas: Oxford, Brookville, Camden, College Corner, Seven Mile, Hamilton, Fairfield, Liberty, Indiana, and Portland, Maine, Everett said.
McCullough-Hyde was at 53% capacity on in-person care units and at 75% capacity in the ICU, with three out of four ICU beds occupied. 
Everett also reported that five team members at McCullough-Hyde Memorial Hospital are out with COVID-19. 
"The Omicron variant has given us our highest levels," Everett said. "The fourth surge has been the toughest to maintain because of the numbers. It stretched us more than the other three waves did but we never ran out of beds or staff."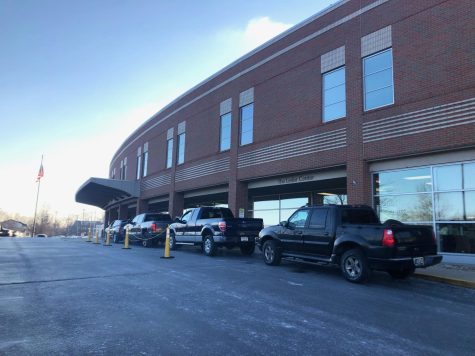 In 2021, McCullough-Hyde established a drive-through COVID-19 testing station at the hospital, 110 N. Poplar St. The drive-through service is still offered from 8:30 a.m. to 4:30 p.m. Monday through Friday with a physician's order. However, because of the winter storm, the service was suspended Thursday and Friday. 
Miami University updated its COVID-19 Oxford Campus Dashboard on Tuesday, reporting that there were 18 new student COVID-19 cases and no reported cases for employees from Monday. There are seven residential students in isolation, with 121 available beds remaining. As of Dec. 1, 2021, 92% of the Miami students were vaccinated and 91% of the Miami faculty in Oxford had been vaccinated, according to the university.
In an email to Miami students, faculty and staff this week, the university's COVID Response Team wrote that Butler County's COVID-19 report suggests that transmission rates are high, and that the Omicron variant has peaked in Butler, but Miami "may have not reached our own peak on campus given our semester start date." 
The COVID-19 Response Team urged students, faculty and staff to remain vigilant and get their boosters, if eligible.