Oxford's Styrofoam ban to finally take effect
The ban against polystyrene food containers, commonly known by the brand name Styrofoam, will go into effect Saturday in Oxford.
Oxford passed the ban on containers back in February 2020, which was to have gradually phased out their use by the end of 2021. But the ban was then superseded by Ohio Senate Bill 242, which limited the enactment of local laws against single-use plastics. The state bill passed and was signed by the governor in 2020. 
However, the state's ban against such local ordinances is due to expire this Saturday, Jan. 15. Upon its expiration, Oxford's rule against the containers will become effective, according to Oxford City Manager Douglas Elliott.
Polystyrene is widely used in the food services industry, often taking the form of carryout containers and coffee cups because of its insulating and cushioning properties. The material also raises environmental concerns because it can take up to 500 years to biodegrade, according to a 2016 study done at St. Louis University. Cardboard food containers, by comparison, take only a few months or less to decompose. 
The polystyrene also easily crumbles into tiny particles that can be toxic when ingested by wildlife. 
Elliott said a letter will be sent to Oxford's businesses after the law goes into effect, giving them between three to six months to phase out the use of the product in their stores. 
"They probably already have a supply (of polystyrene containers) and we want to work with our businesses right now during the pandemic," Elliott said.
He also said the plans could be put on pause again if the state legislature chooses to extend Senate Bill 242.
Businesses choosing not to comply by the phase-out deadline could be charged with a minor misdemeanor and a $150 ticket. However, Elliott said he doesn't foresee having any issues with Oxford's local bars and restaurants.
"Our city is environmentally conscious and I think our businesses tend to reflect that," Elliott said. 
Miami University switched from polystyrene to cardboard food containers two years ago and some local businesses also have discontinued using plastic products. However, it does remain in use at many local businesses, like the Bodega on High Street, which uses it to pack and insulate soups and pasta salads.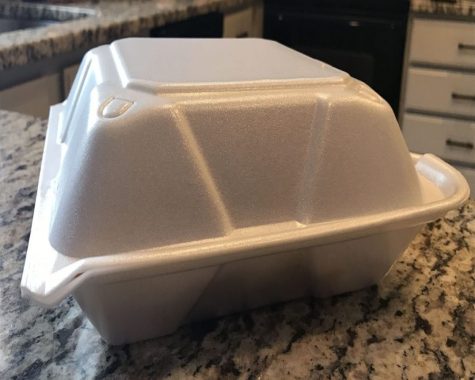 Chance Ledford, a manager at Bodega, said he isn't concerned about switching over to a different material as they are comparable in price.
"I don't see this as an issue," Ledford said. "Yeah, Styrofoam holds our stuff really well but we can just order paper cups for the soups, especially if it's helping the environment." 
While some business owners in New York worry about banning the material during supply chain disruptions, Ledford said he wasn't concerned about ordering the new paper products. 
Six states, including Virginia, New York and Vermont, have complete bans on polystyrene containers, while 13 states have at least one city or county with a polystyrene ban, according to WebstaurantStore, a blog for the restaurant industry.