Education majors return to face-to-face student teaching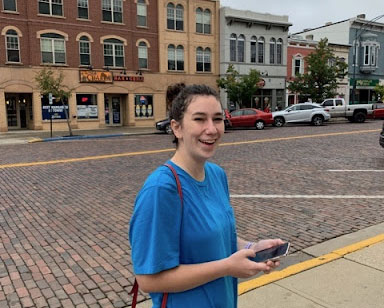 For student teacher Morgan Rost, the daily routine became an ingrained habit – up at 5:40 a.m., don her pre-laid out clothes, grab her pre-packed lunch and hit the road for her 40-minute drive from Oxford to Harrison Junior School. 
"Waking up early wasn't the issue, adjusting my lifestyle to fit that waking up early thing was," the 21-year-old Rost said. 
Rost is a middle childhood education major, graduating in December. Prior to this semester, Rost had little classroom experience, as many in-person field placements were canceled last year because of COVID-19. Others were in virtual classrooms without the face-to-face interactions.
Rost spent half of this semester teaching at Harrison, but left the U.S. Saturday, Oct. 9, for Luxembourg, where she will complete the second half of her student-teaching experience.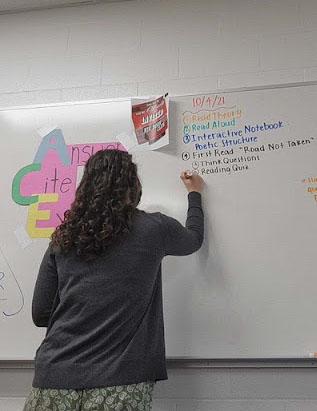 Rost is just one of about 150 students Miami University's Department of Teacher Education placed in 41 school districts from Cincinnati to Dayton this semester, said Molly Sawyer, director of clinical placements for the department. Usually, students are placed within a one-hour radius of Oxford. Thirteen Miami students were placed in the Talawanda School District this semester. 
"One of the top goals this semester was getting everybody into a face-to-face classroom placement," Sawyer said.
While the department still arranges in-person observation by a university supervisor, it has added a video observation component to its program.
"I think [the pandemic] offered some insight into new opportunities," Sawyer said. Miami added new partnerships with online schools such as Ohio Virtual Academy, where student teachers gained field experience by tutoring children online during the pandemic.
The department also introduced full-day and half-day seminar sessions where students meet with Sawyer and their faculty supervisors to talk about the experience of student teaching and discuss any needed support or possible questions. 
"It is exciting that we have professors willing to consider thinking outside the box so that we can prepare our students for whatever teaching will look like," Sawyer said.
At Harrison Junior School, where Rost was a student teacher for the first half of the semester, a mask mandate was introduced two weeks into the school year due to high numbers of students in quarantine.
"We tried doing it without [the masks] and the kids were dropping like flies," Rost said
Tracking missed work and who was in quarantine and who was not were some of the challenges the teachers faced. Some students have not returned to school since the mandate went into effect, Rost said. 
Depending on the class period, Rost taught 20 to 28 students. Her supervisor phased her into her teaching job, giving her more responsibility each week. Despite the missing field experience, Rost feels comfortable in the brand new school building. 
She found her passion for teaching at the end of freshman year after taking an education class. 
"I was made fun of by a teacher before, and no teacher should do that. I just don't want other kids to feel that way," Rost said. 
As a student teacher Rost also faced challenges that go beyond teaching science and language arts. She attended parent conferences dealing with the subject of self-harm, Rost said.
"Teaching them is one thing, getting good grades is one thing, but a student's mental and physical wellbeing is something totally beyond the classroom," she said.
While student teaching, Rost has to find a balance between paying attention to student's individual needs and concerns, as well as staying on schedule according to state mandates. 
Noelle Champagne completed the first half of her student teaching experience at Bogan Elementary school in Talawanda School District. Her commute was only 10 minutes, making it possible for her to get up as late as 7:30 am. Yet she feels like she has not seen her friends nearly as much as before, Champagne said.
Balancing the energy of her 22 fifth graders was sometimes difficult, she said. "But I feel like I made an impact on these kids and that was really cool to see." 
"I am very excited about teaching abroad," said Champagne, who is also finishing her student teaching in Luxembourg. Her mother was born in Luxembourg. Champagne also plans to work abroad once she graduates from Miami and hopes that this experience will benefit her in the long-term.