Food pantry begins mobile van service at Parkview Arms apartments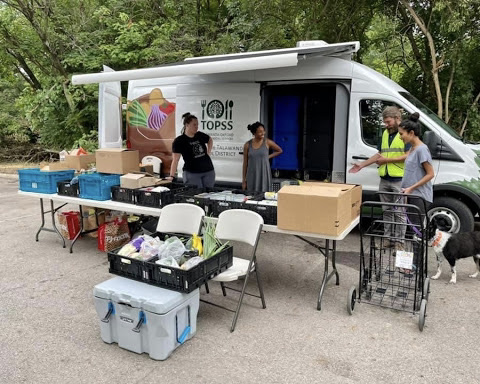 Talawanda Oxford Pantry & Social Services (TOPSS) and the Oxford Farmers Market have teamed up this summer to provide those in need at Parkview Arms Apartments on the city's west side with meats, cheeses, boxed goods, toiletries, and fresh produce using a new mobile food pantry.
Every Thursday and Saturday, Ross Olson, a co-marketing coordinator for the Farmers Market and the coordinator of the TOPSS mobile food pantry delivery, starts preparing for mobile food delivery around 2 p.m.
First, Olson and various staff members go over paperwork, check on inventory and get food and supplies loaded into the van. The TOPSS operates its food pantry at 5445 College Corner Pike. The van is designed to help those who may not be able to drive to the pantry.
"We try to bring enough of everything," Olson said. "We bring enough to accommodate around 20 to 30 households, as a general figure, it's probably something like a thousand pounds of food and we'll unload several hundred pounds of food at a time."
Loading ends at around 3 p.m. in which the team has enough time to head over by 3:30 to be able to be up and running at Parkview Arms around 4 p.m.
"We have a shopping list and a card we hand out to customers to sign in," Olson said. "There's a registration process involved, and there's a certain amount of each food item customers can grab."
Additionally, TOPSS partners with a social service agency in the community each week to help provide resources and information to residents.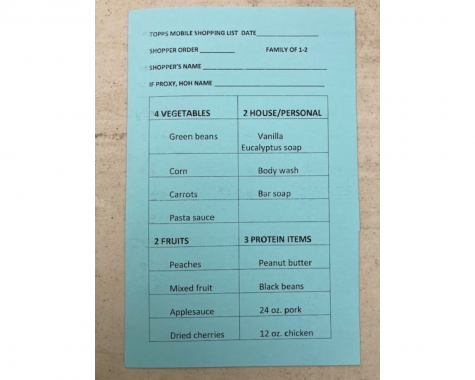 "Nancy Parkinson has a nutrition program where she helped prepare simple dishes," Olson said. "We partnered with her to provide bagged-up kits with some ingredients that customers could prepare for themselves."
The upcoming partnership is with the city council's mobile vaccine program, an incentivized vaccination program with participants receiving a $100 gift card.
The program is entering its third week of operation in delivering food, resources, and information to Parkview Arms residents. Plans to expand operations to areas such as Island Lake Mobile Home Park and to the Somerville community are in the works.
The van was purchased in October in collaboration with TOPSS and the Oxford Farmers Market using $95,000 of federal CARES Act funding. Supply chain issues delayed the delivery of the van until July 15. 
Olson said the Oxford Farmers Market expressed interest in developing their e-commerce platform and saw the van as a way of achieving it.
"When the city was taking proposals for CARES Act funding… we were implementing an e-commerce platform to help farmers be able to sell their products through an online portal offering things like delivery," Olson said. "And so, we saw the need for a refrigerated van the same time the pantry was looking…, and so I took the role of collaborating with the pantry on behalf of the Farmers Market in Oxford."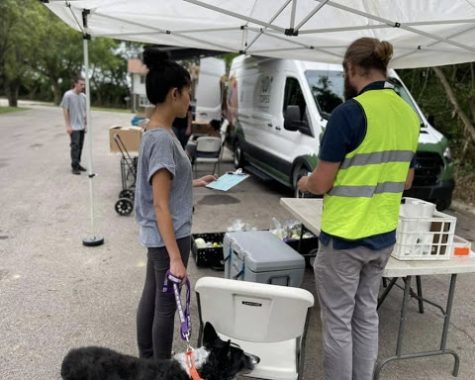 Ann Fuhrer, the executive director for TOPSS, said she saw that the van could be used to help the food pantry reach customers that do not have access to transportation.
"I put in a proposal from just our organization, in looking at other groups in the community, I saw a possibility for a collaboration with the Farmers Market," Fuhrer said. "We wanted to have a vehicle so that we can go out to our customers rather than requiring them to come here because so many of our customers don't have transportation."
Shortly after Olson and Fuhrer were able to collaborate on the van, Fuhrer reached out to Olson to fill the position of operating and running the mobile pantry. 
"Ann reached out to me and told me that she identified a need for someone to operate and run the mobile pantry," Olson said. "We talked about it and I took it."
For Olson, the best part about the experience is the up-front encounters of being able to provide to those in need.
"It's a very new program… and I didn't know what to expect, but it's been an overwhelmingly positive experience," Olson said. "It's been wonderful for people to reach out and say how appreciative they are."
Interested community members can help volunteer their time to the mobile food pantry project by reaching out to TOPSS at [email protected].