Softball team in tournament after regular season domination
Miami's softball team is having perhaps its best season ever. The team has a school record of 46 wins and just eight losses, including a 36-2 in the Mid-American Conference (MAC).
The RedHawks have dominated the MAC all season. Although a Division I NCAA softball game is normally seven innings, the mercy rule is invoked if a team leads by eight or more runs after five innings have been played. In Miami's 36 conference wins, 21 have ended via the mercy rule.
The team's success is buoyed by having one of the best lineups in the nation. Junior infielder Allie Cummins and freshman infielder Karli Spaid have been the two best hitters on the team. Cummins leads the entire conference in batting average (.441), on-base percentage (.579), and RBIs (58), and is tied with Spaid with a conference-leading 56 runs scored. 
Spaid leads the conference in slugging percentage (.927) and home runs (17) and was named MAC Freshman Player of the Year.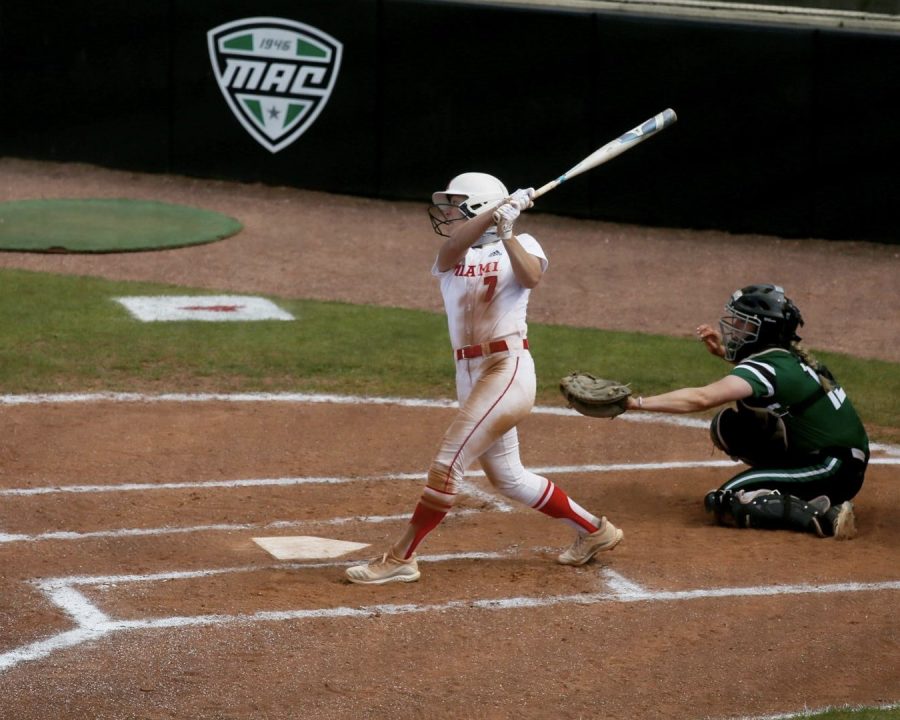 The rest of the lineup has been stellar as well. Seven other RedHawks are batting .300 or higher, including senior Mackenzie Moore, junior Adriana Barlow, and two other freshmen, Karlee Juarez and Holly Blaska. Blaska was named First-Team All-MAC, while Moore and Barlow were on the second team.
Coach Kirin Kumar says this lineup may be the best she's ever had as a coach.
"Having a team, from top to bottom, it doesn't matter who's up at bat? No, I've never had that," Kumar said.
Though the team's hitting has been stellar, its pitching has almost been as good. This is in large part thanks to the dominance of senior Courtney Vierstra, who has been the best pitcher in the conference. Vierstra has a 26-3 record with a 1.59 ERA, the best in the MAC, and was named the conference's Pitcher of the Year. When Vierstra is on the mound, it's a good bet that the other team would not score many runs, which allows the RedHawks to relax at the plate.
"Some games we're not gonna score 10, 12 runs, but when we're having a bad day in the box and can only score (a few runs), I know our pitchers will be able to deal it out there and our defense will be there to back them up," Moore said.
Of course, Vierstra feels the same way; with a lineup as good as Miami's, and a defense that leads the conference with a .967 fielding percentage, Vierstra knows she does not have to do it alone.
"They're just as confident in themselves as I am in them," Vierstra said. "It definitely does take a lot of pressure off."
The team's success this season was anything but preordained. The RedHawks won the last regular-season MAC softball championship in 2019, but the team needed to replace head coach Clarissa Crowell, the team's winningest softball coach in school history after Crowell left for Penn State last August.
Enter Kirin Kumar. Coach 2K, as her players call her, was an assistant coach at Virginia Tech when she was hired by Miami University. Despite no head coaching experience, her players bought into Kumar's message.
"A lot of times when you come into a program that's been successful, they can say, 'Oh, what does a first-year head coach know? We've already been good, we know what to do,'" Kumar said. "And they didn't do that. They said, 'I want to be better… even better than what I've been.'" 
If the team was expected to take a step back this season, they didn't show it. If anything, the first-time head coach has strengthened the team's play, as Kumar was named the conference's Coach of the Year. Players attribute this to Kumar's incredible intellect and softball IQ.
"I truly think she's the smartest coach I've ever been around," Moore said. "Her wisdom is top-notch."
"That woman knows more about softball than anybody I've met in my entire life," Cummins said.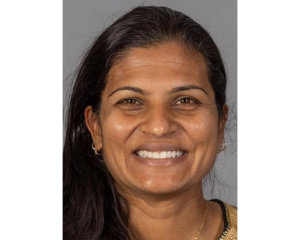 In a normal season, Miami would have to win its postseason conference tournament to make an appearance in the 64-team NCAA Division I Softball Tournament. However, since the MAC canceled conference tournaments in some sports this season, the RedHawks obtained the conference's automatic bid to the tournament with its regular-season championship.
Miami will play in the Lexington Regional this Friday, May 21, through May 23. The team's first game on Friday is against the Notre Dame Fighting Irish at 2:30 p.m. Regionals are a four-team double-elimination mini-tournament, with the last team standing moving on to the Super Regionals.
Though it has not been officially announced, Kumar plans to put Vierstra on the mound for Friday's game.
"You can go tell Notre Dame," Kumar said. "I don't care."
No matter what, the RedHawks will play the Wildcats in their next game; if the team wins, they'll play the winner between the Kentucky and Northwestern Wildcats, and vice versa if they lose. 
The tournament represents a step up in competition for Miami. The RedHawks have the most wins (and highest winning percentage) in their regional, but the other teams all won at least 29 games in tougher conferences like the Big Ten, Atlantic Coast Conference (ACC), and Southeastern Conference (SEC).
Still, the players are ready for the challenge.
"They are absolutely ready for anything," Kumar said.