Parade connects virtual students to teachers
Talawanda School District's remote learners finally met their teachers last Tuesday, at a drive-thru parade at the district's high school.
While most students in the district have been back to face-to-face classes since January, about 20% of Talawanda's students have chosen to remain in virtual classes, seeing their teachers only on their computer screens, said Holli Morrish, the district's director of communications and public engagement. The students and their families have chosen the remote learning option out of concerns for their own health, or the health of a family member, she said.
District administrators decided it would be nice if the virtual students, particularly those in elementary school, got a chance to see their teachers in person, at least from a safe distance. Hence, the parade.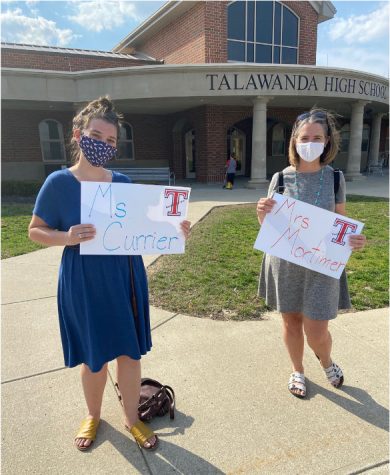 "Lindsey Gregg, our curriculum director, and I were brainstorming ways to make our remote learners feel that they were still part of the Talawanda community," said Emily Lykins, principal of elementary remote learning and assistant principal at Marshall Elementary.
"Several of our teachers expressed the desire to see their students in person," she said.
The parade allowed each student the chance to meet their teachers. The 30-minute event was held for remote learners in grades K-5. It followed COVID-19 guidelines, keeping students and parents in their cars so that they could stay socially distanced from the teachers during the course of the event. Students wore masks, waved at and spoke to teachers, who were masked and on the sidewalk.
Many individuals attended the April 13 event; 15 teachers, plus Lykins and four to five families per teacher, Lykins said.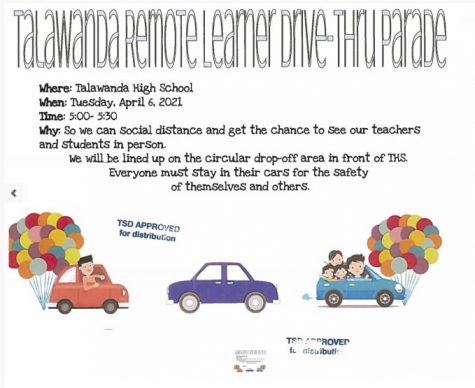 Originally, the remote learner's parade was supposed to take place in February but was postponed due to weather conditions.
Last Tuesday, the weather held out for the teachers and students, reaching 75 degrees and staying sunny the whole afternoon.
According to Lykins, this will be the last meet and greet of its kind before the end of the year.