Panel discusses race issues relating to the COVID-19 pandemic
Minorities in Ohio were disproportionately exposed to COVID-19 due to systemic racism and disinvestment in their communities, but the pandemic also spurred the state and its minority populations into new avenues of cooperation, according to a panel of state health experts participating in a recent virtual discussion of the issues sponsored by Miami University's Center for American and World Cultures.
"Definitely, this pandemic has highlighted racism and the disparities in our healthcare system, economic justice system and criminal justice system," said Jamie Carmichael, chief health opportunity advisor for the Ohio Department of Health, at the March 16 event.
"We have kind of had a crisis over the last year," she said. "The reality is there for Black and brown people across the state and across the country." 
Vulnerabilities in those communities, such as crowded housing and poor nutrition, made them more susceptible to COVID-19 than more affluent communities, Carmichael said. 
"If I don't have access to healthy food, I am more likely to have a disease like diabetes or heart disease that predisposes me to death if I get the COVID-19 virus," she said.
Carmichael's position at the state health department was created last year by Ohio Gov. Mike DeWine in response to a task force he created to study the impact of the virus on minority communities. 
Carmichael noted that minority communities were in crisis for a very long time and COVID-19 highlighted that and created an opportunity to elevate conversations and seek solutions.
"It really created a unique window," she said.
Carmichael said more than 60% of the social determinants of one's health have to do with who you are, where you live and how you live. She said COVID-19 created a window to address that inequity which predisposes minorities to disease. 
Panelist Lilleana Cavanaugh, executive director for the Ohio Commission on Hispanic/Latino Affairs, noted that there are over one million immigrants in Ohio.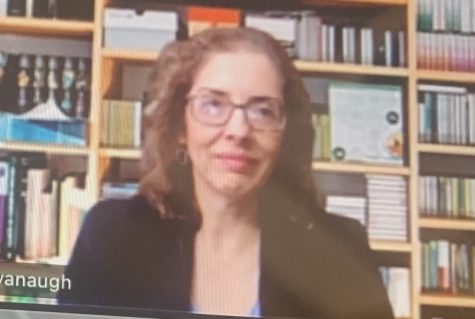 "We realized early on that in order to win the fight against COVID-19, we needed to appeal to our sense of collective wellbeing," Cavanaugh said. "And it was something that would happen in a space of community, cooperation and we needed to pull those strings of solidarity." 
According to Cavanaugh, it was important to let people know early on what was going on. 
"One of the first things that the government did was to ensure that the governor's press conferences were close captioned to enable people of different language backgrounds to understand," she said. Her organization also got on social media to ensure that minorities could be reached with messages on the disease and to bridge the digital divide. 
The panelists said that COVID-19 has changed the way the government works and relates to specific groups of people and how those interact with the government.
"A concern was 'if I come for the vaccine, will I have to prove how American I am?" said Carmichael. "Will my grandma be at risk of harassment by ICE (Immigration and Customs Enforcement)? What kind of documentation do we need to bring?' We took a big step back and said 'What do we really need and what do we really care about?' What we really care about is getting shots in arms and being fair that people who are eligible get it before those who are not eligible." 
She said all Ohio required of the immigrants was their likeness, name and date of birth without a care where the document was from or if it expired. 
According to the Ohio Department of Health, evidence has shown that communities of color were disproportionately affected by the virus, especially African American and Latino communities. African Americans represent 14% of Ohio's population but 24% of positive COVID-19 cases, 32% of COVID-19 hospitalizations, and 19% of COVID-19 deaths in the state. Similarly, at least 6% of those who have tested positive for COVID-19 in Ohio are Latino, despite only representing 3.9% of Ohio's population.