Talawanda School District commits to in-person learning for the spring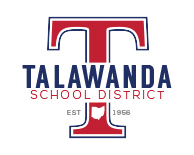 Talawanda High School and Middle School returned to in-person learning Tuesday, Jan. 19.
In November, the middle and high school had to resume fully online learning so any additional staff members could help the three elementary schools — Kramer, Bogan and Marshall– stay open amid coronavirus quarantines.
Talawanda Superintendent Ed Theroux posted a greeting to the returning high school students on Twitter @talawanda, reading a selection from the school's literary magazine: "I miss you from six months ago. I miss you from a year ago . . ."  Theroux cautioned the students to maintain social distancing, wear masks and to stay home if they are ever exposed to the virus.
With all five schools in the district now open again, Holli Morrish, director of communications and public relations for the district, said she is excited to have students back in classrooms.
"We've been in and out of school in person, and it has absolutely been heartbreaking during the times that we've not been able to have students in person," Morrish said. "I cannot tell you how happy (being in-person) makes most of our families."
Morrish said she is so excited for students to be back because she has seen so many struggle with the online learning format.
"(Online learning) is not a good fit. There might be a few dozen kids in this district that are like, 'You know what? This is awesome, I am made for online learning,'" Morrish said. "But, for the rest of the kids, this is not awesome."
Now, with the option of  remaining at home for remote learning or returning for in-person learning, about 80% of students entered Talawanda Middle and High School for classes on Tuesday. 
According to Morrish, the most commonly cited reason for continuing with remote learning was  a child having a relative with a health condition that made them high risk for contracting the virus.
"Some of the students themselves are high risk," Morrish said. "But it's my understanding from our communications back and forth that even more so, there is somebody else in the household that falls into a high-risk category."
Ohio Gov. Mike DeWine has made it a goal to have all Ohio schools offer in-person learning by March. On Tuesday, Jan. 19, he tweeted that 96% of districts statewide are committed to that goal.
"We are working directly with schools to determine what the vaccination of school personnel looks like locally," DeWine tweeted. "As of today, 96% of public school districts have committed to returning to school as least partially in-person by March 1st."
As a school district already offering face-to-face learning, Talawanda is counted in that 96%. Though it is unclear when the district will begin receiving the first round of vaccinations for teachers and staff, Morrish said a majority of the employees are signed up to get the shots.
However, the district may not get enough doses of vaccine in the first shipment to accommodate all teachers and staff who want them, she said.
Though the district-wide list has been prioritized based on factors such as age and health conditions, some staff members who have already had the virus took their names off the list in hopes that their colleagues would get to receive the shot. 
One of the people who took her name off the list was Morrish, who recently had coronavirus. She, among others who removed their names from the list, is hoping that she will be protected by antibodies until vaccines become more readily available.
"I tested positive for COVID in November… so I have some natural immunity at the moment," said Morrish. "So, I took myself off the list because it sounds like we're not going to get enough vaccines in the first round."
Talawanda is communicating often with the Butler County Health District, the district's source for vaccines, and is hopeful that vaccines will arrive in the next few weeks, according to Morrish.
"We hope that when the vaccines are more available that it gets our community to the herd immunity stage so that we can have more traditional lifestyles," said Morrish.