Miami plans statue of former basketball star Wayne Embry
Wayne Embry, a Miami University alumnus and basketball icon, is set to be memorialized with a statue just outside the main entrance of Millett Hall this spring.
In a 2019 YouTube video, Embry described how he almost dropped out of Tecumseh High School, near New Carlisle, Ohio, because he felt humiliation at being one of only two Black students in the school. But he decided to stay in school and went on to have an illustrious basketball career both on the court and as the first Black general manager in any professional sport. 
According to a university press release, Embry became one of the university's first African-American student-athletes when he enrolled to play basketball in 1954. 
Embry, a 6-foot-8-inch center/power forward, would go on to become a two-time all-Mid-American Conference (MAC) player as he led the conference in both scoring and rebounding in 1957 and 1958, both seasons in which the program landed two conference championships as well as two NCAA tournament appearances.
Embry's number 23 is one of six retired numbers in the men's varsity basketball program.
Embry would go on to have a solid 11-year career in the National Basketball Association (NBA), which included five all-star appearances and an NBA championship. During his pro career, he played for the Cincinnati Royals, Boston Celtics and Milwaukee Bucks.
In 1972, soon after he retired from playing, the Bucks named Embry as its general manager. 
Embry would become one of the league's best executives, as he was twice awarded the league's executive of the year award (1992, 1998) while working for the Cleveland Cavaliers.
He was inducted into the Naismith Memorial Basketball Hall of fame in 1999, as well as the National Collegiate Basketball Hall of Fame in 2006.
Aside from basketball, Embry served on Miami's Board of Trustees for 14 years, including one year as chairman of the board. Among his efforts as a member of the board, Embry spearheaded efforts to change the name of the school's mascot from the Redskins to the RedHawks.
"Embry is an incredible contributor to society to both playing, management and leadership of institutions," Assistant Vice President of Development Jayne Whitehead said. "He's simply an amazing individual, and a thoughtful leader."
The Wayne Embry Legacy Project, created this year, includes the statue unveiling, as well as Miami Athletics creating the Wayne Embry Scholarship to help support the men's varsity basketball team.
Fundraising for the project has been backed by two NBA teams, the Cleveland Cavaliers and the Toronto Raptors, both teams Embry has worked for in administrative roles. 
"Embry does the right thing and doesn't let other people influence him. We've seen it whether he's working for an NBA team, or whether he's helping lead our school," said Miami Athletic Director David Sayler. "He's always been that way throughout his career."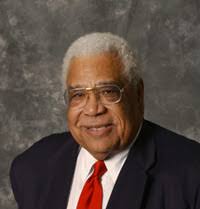 With his right hand and knee raised towards the sky, the statue is designed to capture Embry shooting his signature hook shot while wearing his Miami uniform. The bronze statue is slated to be just over 12 feet tall, and is to be created by sculptor Tom Tsuchiya. Tsuchiya, best known for his bronze statues of Cincinnati Reds players outside of the Reds' Great American Ballpark, spoke of bringing the statue to life.
"Capturing an athlete in a natural motion is one of my favorite things to do in sculpting," Tsuchiya said. "Creating that sense of motion of athletes performing is really fun for me."
Sayler said the process of building the statue had already begun, with an unveiling planned for the spring. 
"We are hoping to be able to have the ceremony sometime in April. Hopefully COVID is in a better situation and the weather will be a little nicer," Sayler said.
While the statue is a big announcement for the Miami community, Sayler doesn't want the celebration to stop there.
"We are actively working with the NBA to make it a Wayne Embry day, recognized across the league. We want to make it something that's not just a day in Oxford, but across the entire NBA," Sayler said. "Stay tuned, it should be fun."
Now 83, Embry continues to serve as a senior basketball advisor for the Toronto Raptors. In an email to the Observer, Embry expressed his gratitude for the project.  
"I am deeply honored and grateful to all who made this happen. I thank family and friends who supported me throughout my career. I thank the teachers and coaches for their guidance and believing in me. I thank my teammates," Embry wrote. "Hopefully, the statue will inspire other student-athletes to achieve."