Little libraries bring joy to Oxford community
Libraries with books to borrow or swap are popping up all over Oxford — at the ends of driveways, in front of stores, at a local park and at public buildings.
Little Free Library is a nonprofit organization created in 2009. A list of stated goals found on its website includes building community, inspiring readers and expanding book access. The libraries are small wooden boxes capable of holding a dozen books or so. To take part in the program, people either build their own library box from scratch and register it online or purchase a handmade one from the website.
Once installed, anyone interested in reading one of the books can take it from the "library" while also having the option to replace it with a book of their own.
As simply stated on the little free library outside of the Oxford Community Arts Center, 10 S. College Ave., "take a book, replace a book."
Books & Brews owner Ann Kamphaus placed her wooden library on the edge of the restaurant's front patio at 107 E. Church St. She covered it with paintings of literary dog characters from children's books such as "Harry the Dirty Dog" by Gene Zion and "Are You My Mother?" by P.D. Eastman.
Opening the door of her library reveals a wide assortment of books where different genres and reading levels mix. Young adult books such as "The Fox Hunt: A Refugee's Memoir of Coming to America," meets "Alfred Hitchcock Presents: Scream Along with Me," which also sits atop a book by children's author Judy Blume.
Kamphaus said that the mixture of books makes it fun for both her and those who read them.
"I think it's fun to go 'shopping' for books," Kamphaus said. "I think it forms a sense of community you know, the kids find it fun to go searching and to see what's in store this week."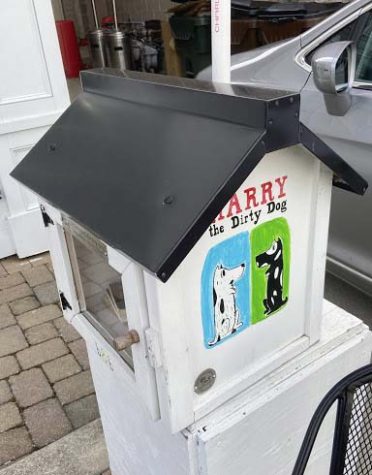 Kamphaus said the inspiration to install her own little library came from her love of children's books. She loved both reading them herself growing up and to her children.
"Books were always a big part of my life growing up and for my kids," Kamphaus said. "I wanted to make this box for kids and to get more books in their hands." 
Oxford resident and little library owner Jim Brown said he was grateful to get children's books in his hands as well.
"I've run out of children's books from my collection, and Ann had to bring me some more of hers," Brown said. "Really came at the perfect time."
Brown started working on making his library in March, when the COVID-19 pandemic affected his job. 
"I've always wanted one," Brown said. "I have a love for woodworking and so when the virus hit, my job dwindled, and I had found myself with some free time to work on it." 
Brown said his library has been active in usage ever since he put it up, which he had not expected. 
"It was definitely very lively in the summer, which I wasn't expecting because of the pandemic," Brown said. "But it's been a pleasant surprise during these times."
While Brown's library houses the typical collection of books, it also is home to another pleasant surprise for the children opening his library: a variety of Beanie Baby stuffed toys.
"My wife was collecting the Beanie Babies for a while and had no use for them, so I figured why not put them in the box for the kids," Brown said. "I've gotten notes left by mothers and fathers saying their kid enjoyed opening the box and taking a book or a toy; it's a good feeling."
Brown's inspiration to build his box came from seeing one outside of the Parks and Community Center in Oxford. 
That library, created eight years ago, is painted neon green, and features children's books for nearby preschoolers to grab, such as "Little Critter," a literary series written by Mercer Mayer.
"We see pretty regular usage from ours, it helps that it's in the way of the preschool inside the building," Oxford Parks and Recreation Director Casey Wooddell said.
According to the Little Free Library website, Oxford is currently home to 11 of the libraries.  Wooddell said the city is soon to have another one near the playground in Leonard Howell Park, 5200 Bonham Road.