Ohio COVID-19 cases skyrocket as Miami begins downward trend
Miami's active COVID-19 cases dipped below 400 this week, and appear to be on a downward trend, even as Ohio's cases are on the rise with a record-breaking 2,425 new cases Thursday, Oct. 22.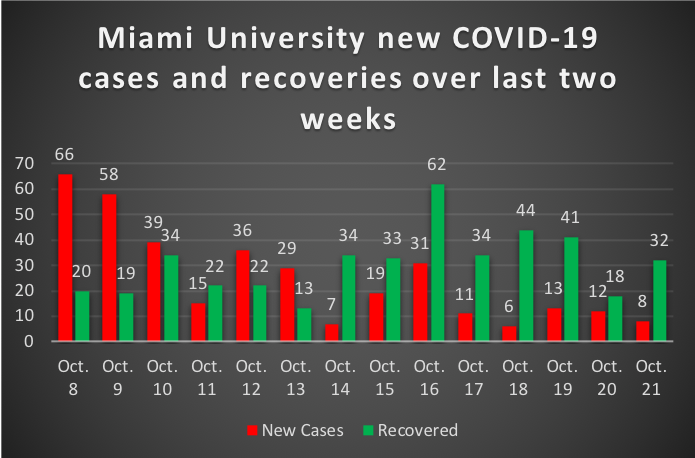 Ohio Gov. Mike DeWine announced the record-breaking day on Twitter: "Of the 10 highest days of new cases reported, eight have occurred in just the past nine days," DeWine wrote in the tweet. "Nine have occurred in the month of October alone."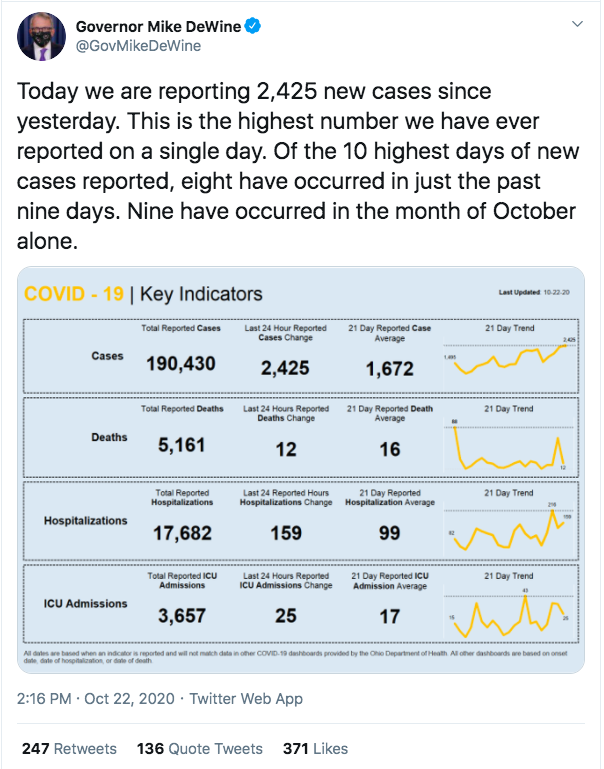 Carole Johnson, interim director of university news and communications, said Miami doesn't plan to change its COVID-19 strategies, despite the rise in cases across Ohio. "We are confident that our strategy, which has been praised by Ohio Gov. Mike DeWine, is providing accurate information to our students, employees and the Oxford community," Johnson said.
About 11% of Miami University students have tested positive for COVID-19 during the fall semester, cumulatively. Compared to other Ohio universities, only University of Dayton reports its students testing positive at a higher rate.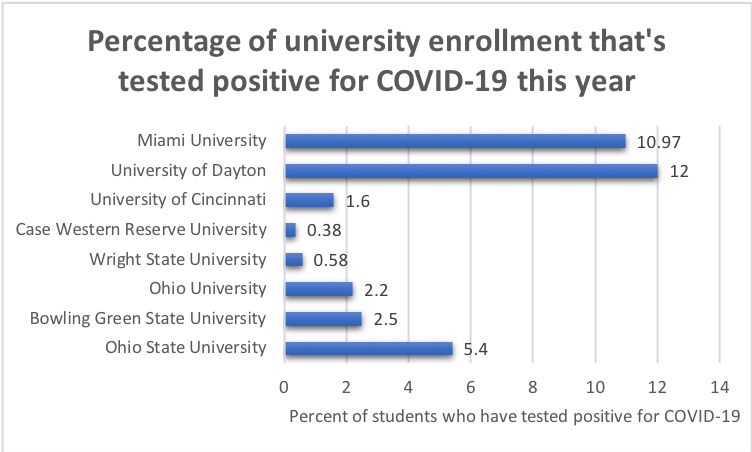 Miami reports an infection rate twice as high as The Ohio State University and five times greater than Ohio University. Less than one percent of students have tested positive at Wright State University and Case Western Reserve University.
Johnson said Miami's numbers can be attributed to its aggressive testing programs. "Miami has one of the most comprehensive COVID-19 testing strategies among higher education institutions in the nation," Johnson said. "In addition to testing symptomatic students, we do wide-net testing and surveillance testing of our students. We believe this paints a more accurate picture of the situation on campus as compared to the schools that are only doing symptomatic tests or random sampling tests."
"While that makes our numbers look proportionally higher, we believe our approach shares the true picture of the virus on campus and in the community that simply isn't possible without this level of testing."
Miami has designated its residence hall floors in a color-coded system. Residence hall floors that show statistical evidence of a cluster of COVID-19 cases are designated as purple. Students who receive an alert that their residence hall floor is purple are asked to abide by Miami's remain-in-room policy. 
"Our approach has given us the opportunity to catch potential outbreaks in our residence halls and urge students on affected floors to isolate themselves to avoid spreading the virus further," Johnson said. "We then test those students twice a week until we are able to clear the floor. This approach allows us to catch cases earlier—before they can be spread more broadly in the campus community. We have been happy to see our seven-day average for positive cases drop significantly since we instituted this strategy."
Students who test positive for the virus are asked to quarantine in a location where they have food delivered to their doors and should remain in their rooms. Miami uses The Miami Inn, The Marcum Hotel and Conference Center, and Thomson Hall as locations to house students who test positive for COVID-19.
Five percent of Miami's residence hall floors are on remain-in-room status compared to 20 percent last week.
"We are encouraged to see that the percentage of hall floors operating under the remain-in-room plan is decreasing, as is our seven-day average for positive cases," Johnson said.
Cameron Hay-Rollins, professor and chair of Miami's department of anthropology, who is on Miami's safe return to campus planning and coordinating committee, said she's noticed more people on campus complying with COVID-19 guidelines. "At the beginning of the semester I didn't see students masked, unless they were inside buildings—not necessarily outside," Hay-Rollins said. "Now, when I walk around I'm seeing students masked, I'm seeing adults masked. Even outside."
When students returned to Oxford, many gathered to visit friends they hadn't seen since March, and cases spiked over 1,000. On Nov. 20, Miami's in-person semester will end and many might feel compelled to visit friends one last time before a two-month winter break. Hay-Rollins said it's important for anyone who might visit family over Thanksgiving to take rigorous precautions against COVID-19 by wearing face coverings, washing hands and maintaining physical distance.
Wednesday, Oct. 21 the CDC changed its definition of close contact to include brief encounters. Previously, someone within six feet of a person positive for COVID-19 would be a close contact if they'd been within six feet for 15 consecutive minutes—but now, someone is a close contact if they are within six feet of a person who's positive for 15 minutes total. Additionally, the CDC considers close contact with someone with COVID-19 can be through direct physical contact, sharing eating utensils, providing at-home care to that person, or being coughed or sneezed on by the person with COVID-19. 
The CDC recommends anyone in close contact with COVID-19 quarantine for 14 days.
In the US, more than 8 million people have contracted the virus and more than 222,000 have died.