Miami's on-campus COVID-19 cases are on the rise
As of Oct. 7, more than half of Miami's Residence Halls had reported at least one case of COVID-19 in the previous seven days, and 20 percent of floors had more than 5 percent of students test positive in the previous seven days. 
Miami reports 428 active cases among students, and one employee who has the virus.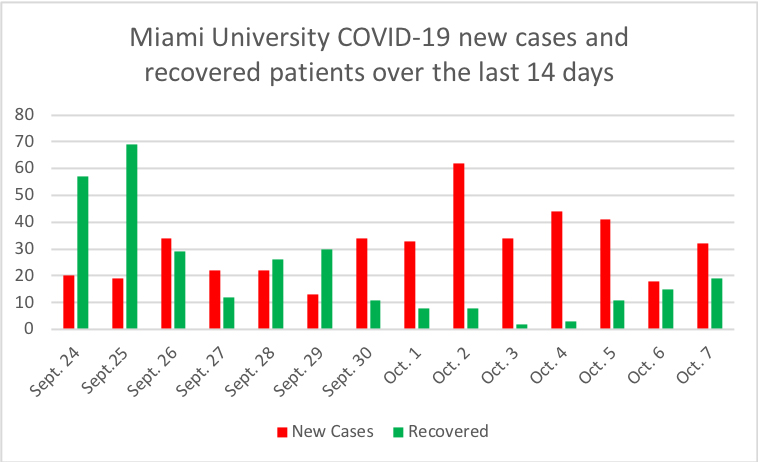 In September, Miami reported more than 1,000 student cases, but that was before the university welcomed its on-campus students back to Oxford. Isolating students on campus presents new challenges for the university.
Miami isolates students infected with the virus and quarantines those who were exposed. Students exposed to the virus are asked to abide by remain-in-room procedures to avoid spreading the virus. Carole Johnson, interim director of university news and communications, said Miami delivers food to those who are ill and those who are being isolated. Miami has plans to give remain-in-room students limited access to dining halls.
"We are providing residents with food, and starting Oct. 9, all Remain-in-Room students will have access to Bell Tower Commons for meals during the week (Monday-Friday) and Western Dining Commons on the weekends (Saturday-Sunday)," Johnson said.
Some parents in the Miami University parents Facebook group have expressed concerns that Miami could begin running out of dorm space for students to quarantine and isolate.
But Johnson said Miami has adequate space to house its infected and exposed students.
"Any student who tests positive for COVID-19 is moved out of their residence hall into isolation in areas we have designated," Johnson said. "They do not remain in their room. We have adequate space for isolation and quarantine. Our Remain-In-Room plan for residence halls is designed to help mitigate the spread of the virus."
Two groups of students recently received citations for parties violating Oxford's mass gathering ordinance designed to limit the spread of the virus. According to the city's ordinance, "mass gatherings" means any social gathering, event or convening that brings together greater than 10 non-household persons at the same time, to include both indoor and outdoor gatherings, according to Section 1 of the ordinance.
When Miami students violate the ordinance, the citation is reported to the university. A fine must also be paid to the city. Miami's office of community standards evaluates each case through its disciplinary process.
"While we cannot speak to specific cases, students have gone through the disciplinary process as a result of violating the Healthy Together pledge and the Code of Student Conduct," Johnson said. "A student could face dismissal as part of this process. The process is led and managed through the Office of Community Standards."
Any attendee of the gathering could be cited — not just the host — and the ordinance applies to indoor and outdoor events.
As Miami attempts to mitigate the spread of COVID-19 in its dorms, it recently introduced new mask compliance guidelines that require students to wear face coverings both indoors and outdoors, while on campus. Miami's face-to-face instruction ends Nov. 20 for the fall semester.