Talawanda to resume face-to-face Oct. 20, but online option remains
Talawanda Schools will begin face-to-face classes on Oct. 20.
The Talawanda School Board voted to reopen classes at its virtual meeting Tuesday, Sept. 29. The motion was drafted by board member Rebecca Howard, and passed unanimously.
Families will still have the choice of keeping their students home and allowing them to continue attending classes virtually. Because of the COVID-19 pandemic, the district has been teaching all classes virtually since the school year started in August.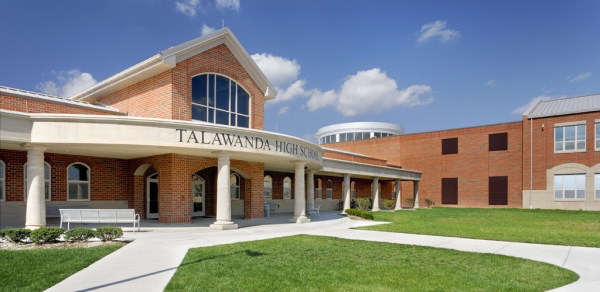 The board cited both the decline in coronavirus cases in Oxford, at Miami and county-wide, as well as a desire to give families a choice, as reasons for its decision to resume face-to-face teaching. 
The school board and Superintendent Ed Theroux agreed that they do not want their decision to "yo-yo" back and forth, meaning that barring any major rises in cases, the district will continue with this plan for the remainder of the fall term.
Now that the board has passed the motion to bring students back in-person, the next step is for the district to collect data from families, gauging how many students will be returning to the classroom. Theroux said the results of the survey will dictate how the district will structure the classes, but that some "rearranging" of teachers should be expected.
"Not all teachers can teach all grade levels or all subjects," Theroux said during Tuesday evening's meeting. "So, we have to ensure that we have enough teachers to do the face-to-face plus the remote learning."
The district does not have a guess at how many students will return to face-to-face and how many will remain at home. Whether teachers instruct just online, just in-person or both will partially depend on the results of the survey, Theroux said.
If the district does not have enough teachers to cover online and in-person instruction separately, there are a few options that can be used: teachers creating curricula for online and in-person, hiring additional teachers, or employing the use of a commercial online learning platform. While all three options present challenges, the board seemed to be disinclined to use an online platform.
"Whatever platform we use, or recommend, if we use one, everyone else with it is struggling," Board Member Pat Meade said. "Platforms are computerized programs. There's no socialization, you're working on it basically independently through the work."
Lindsey Gregg, director of teaching and learning for Talawanda, showed concern for teachers who might have to create two curricula — one for online students and one for face-to-face students, on short notice.
"We have amazing teachers and they, right now, are going above and beyond what we've expected," Gregg said. "So, I know that if we ask them to do this, they are going to be very overwhelmed because they are going to want to do it right."
Students who decide to stay remote will be "locked-in" to that decision through the end of the quarter in December, Theroux said. 
To help support teachers in the transition back to face-to-face instruction, the board's motion of Tuesday included three professional development days,  Oct. 14, 15 and 16, when no classes will be held. Oct. 19 already is marked as a day off for fall break, meaning the first day of face-to face classes will be Tuesday, Oct. 20. 
Parent-teacher conferences, scheduled for Oct. 13 and 15, are expected to continue as planned.
On Sept. 16, a group of  Talawanda parents and students, dissatisfied with the all-virtual instruction in the district, protested outside the school board building on Chestnut Street, asking board members to give them a choice to send their kids back to school.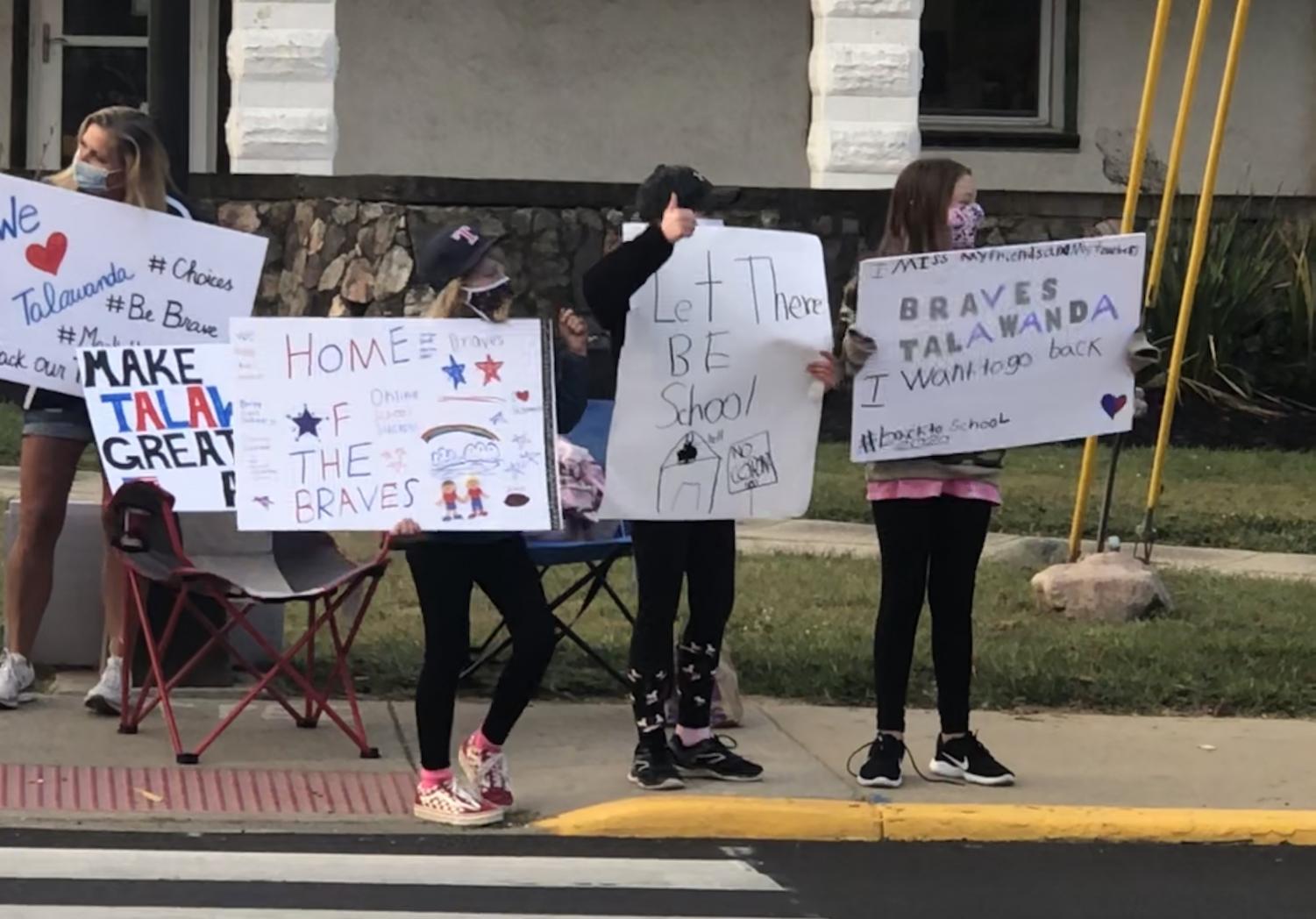 Though the school board did not cite the protests as a specific motivator for its decision on Tuesday, multiple members noted how they valued giving families a choice.
In the weeks since the protest, 361 community members have signed a petition for the same cause. Nicole Garver, who organized both the protest and the petition, said she thinks the efforts made an impact on the board's decision.
"I could not be more proud of how these Talawanda parents banded together in support of our kids," Garver said. "The efforts didn't go unnoticed and now the silent, isolated halls of Talawanda School District will be filled with laughter again."
Garver added that school board members were also receiving many emails from families explaining why the online method was not working for them personally.
But, some parents still are considering choosing to keep their children home to continue virtual learning. Brandy Lenos, mother of three, said she is still on the fence.
"I'm apprehensive, not due to COVID but purely due to the fact they've been doing much better online," Lenos said. 
LaTricia Hillman, mother of a sixth-grader and an eighth-grader, also said she hasn't decided what her decision will be yet.
"If they stay online, I am worried that the online version will no longer be as strong as it is now, with teachers going back to face-to-face," Hillman said. "Most Talawanda students have developed a relationship with their teachers and now that is in serious jeopardy."
Meade expressed similar concerns during the board meeting, leading him to advocate to hire more teachers if necessary.
"We can deal with the finances later, we need to deal with kids' education now," Meade said.
It has not yet been discussed where funding for new teachers, if hired, would come from.
Though the district has not yet announced health and safety protocols, Theroux said social distancing cannot be guaranteed on school buses, in hallways, in the cafeteria, and even in some classrooms.
Howard said families advocating to send their children back to school, under those circumstances, should be prepared to follow safety protocols, such as sending their students to school with masks.
"If you are strongly advocating for a return to school, you have to also strongly advocate for policies and procedures that will help us make that happen, that will help minimize our need to close," Howard said.