Talawanda parents protest remote learning on behalf of their children
More than 20 parents and students protested in front of the Talawanda School District offices Wednesday, demanding that the school board reopen some face-to-face classes. The district has been holding all classes online since the school year began Aug. 24.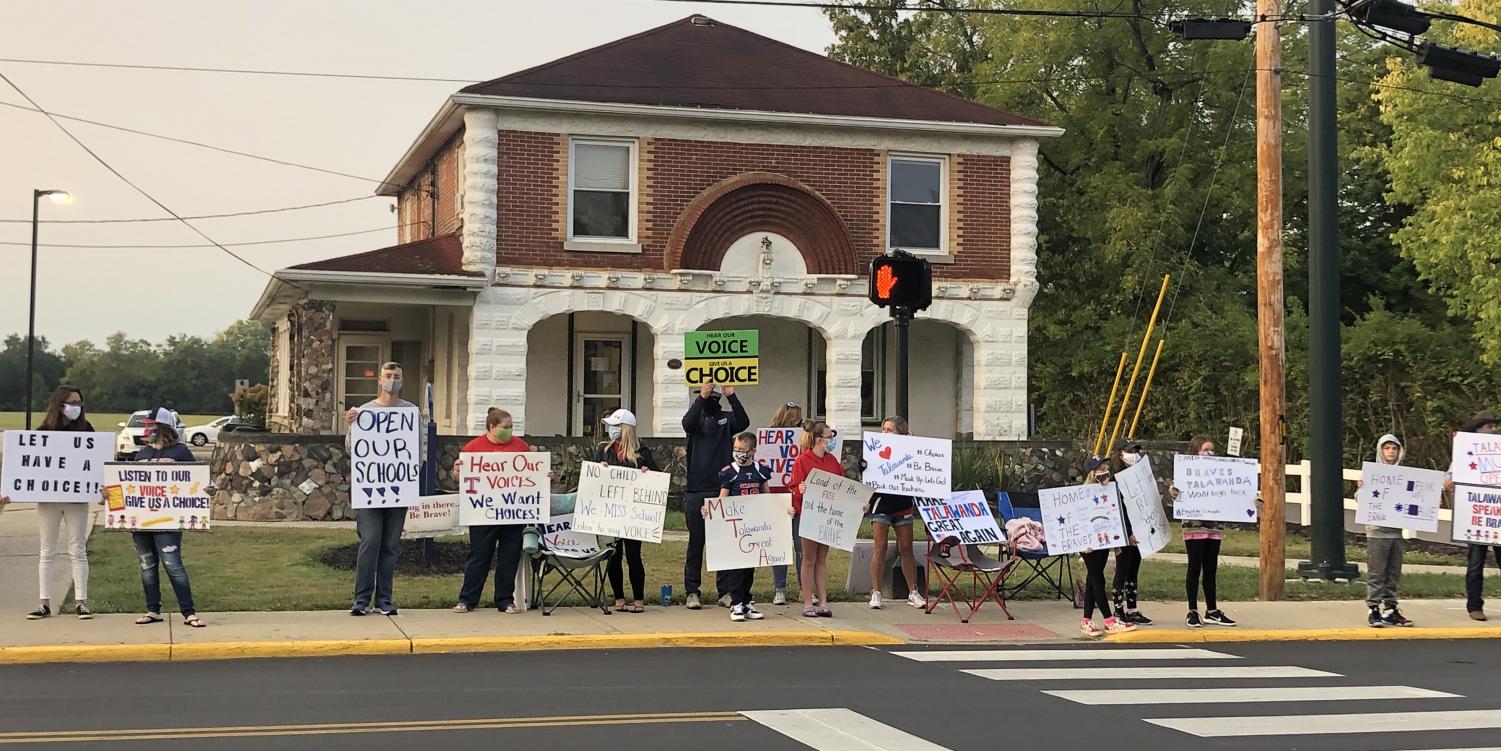 At its Aug. 3 meeting, the school board voted to keep district learning completely virtual but said it would revisit the issue every nine weeks. Nearly 90% of the parents who responded to a school district survey early in the summer said they wanted their children back in regular classes. Initially, the district planned to offer a face-to-face option, but then local cases of the virus spiked and the board voted to go all virtual.
Now, five weeks into the online curriculum, some parents are again calling for hybrid or in-person learning to resume. 
The idea to protest began with a group of Talawanda mothers worried about possible negative effects of remote learning. Nicole Cobb, a healthcare worker and parent of a fifth-grader and an eighth-grader, organized the event via Facebook.
"It started with a bipartisan group of Talawanda moms that wanted to let the district know that the remote choice was failing some of their students," Cobb said. "From there, it just exploded."
Parents and students protested in front of the district offices, 131 W. Chestnut St., throughout the day, with the largest gatherings being at 7:30 a.m., 3 p.m. and 6 p.m. The goal was to select times when the school board building was open and to provide options for families wanting to participate, Cobb said.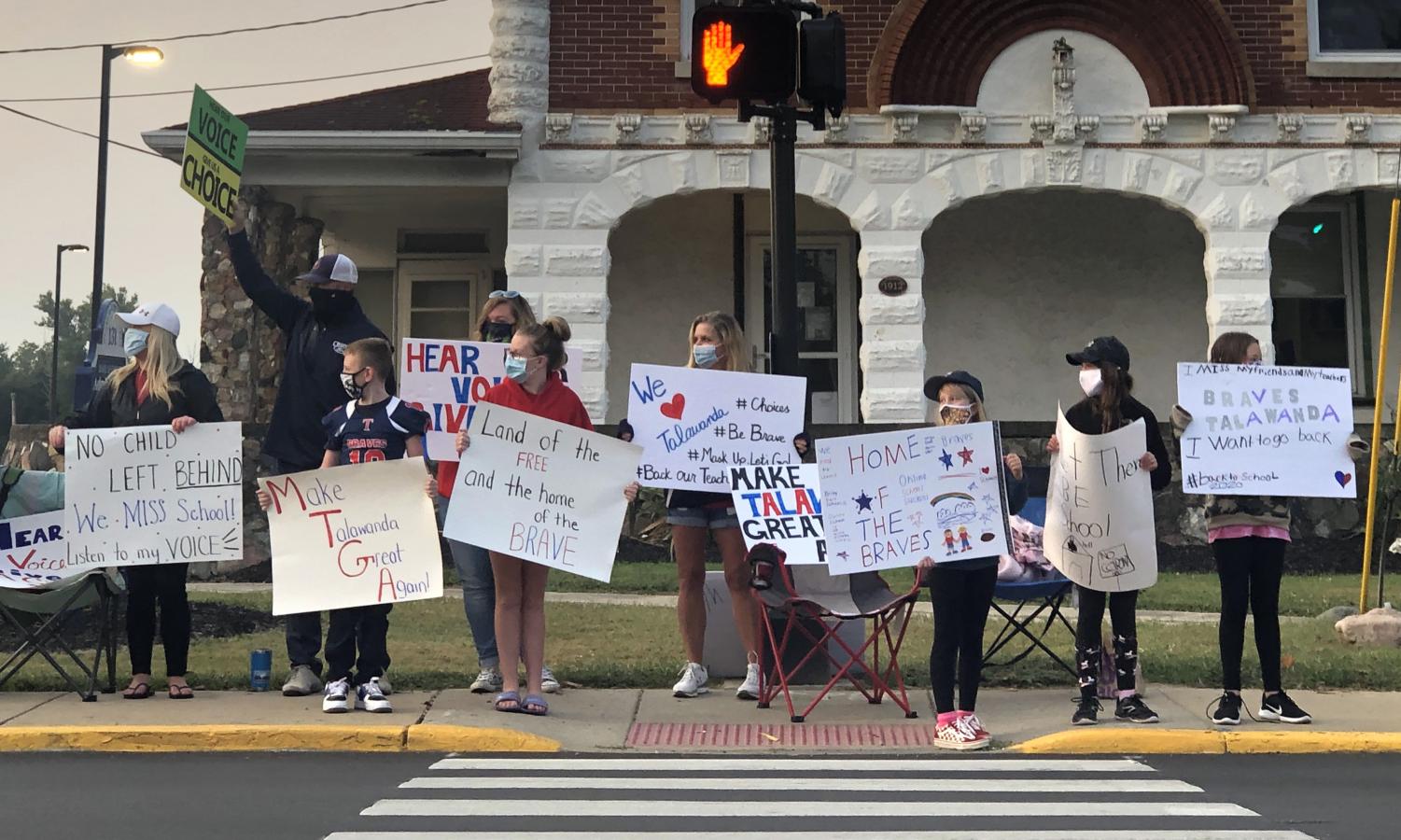 One of the largest concerns parents expressed involved difficulties with technology.
"We're in week four of school and we're on our third computer," said Jody Asher, father of a third-grader in the district. 
Missing a Zoom meeting or struggling with the technology has driven his daughter to tears, Asher said.
Asher and his daughter aren't the only ones having difficulties logging on for classes. Talawanda School District spans 144 square miles, including a large amount of rural area. This can make getting reliable internet connections very difficult, according to parents at the protest.
At the beginning of the school year, about a month ago, students in need were provided with computers and hotspots. But, that didn't solve the problem completely. School Superintendent Ed Theroux said that even with the distribution, the district is still working through connectivity issues.
"We know we have some areas where the internet and the hotspots that we provide are barriers," Theroux said. " We continue to work with families on these issues."
Even if students are getting logged on for class without issues, some still face difficulties during the school day. Protesters expressed concerns both for academic issues and an increase in emotional distress among their children. 
"There are those of us that are just really struggling," said Laura Puckett, mother of a Talawanda student. "I don't think (the board) knows exactly how bad it is for some kids."
Asher said he knows multiple high school students who typically are honor students but currently have at least one D because of the virtual environment.
"I won't say the school is failing them, but it could be doing better," Asher said.
Melissa Engelhard, whose son is a junior at Talawanda High School, said that for her son online learning is "just not working." 
"He's actually gotten to the point with his frustration that he asks if he can just drop out of school," Engelhard said. "Because what he's doing is pointless."
In response to these concerns, Theroux said the board will listen to the community, but will also be relying on data and science when making decisions about the return to school.
On July 2, Ohio Gov. Mike DeWine announced that school districts could make their own decisions on how to conduct the school year. Across the state, about 25% of public school students are attending school in the same way as the Talawanda students, staying completely remote, according to a map the governor unveiled at a recent press conference. According to DeWine, 38% of the state's districts started the school year with all face-to-face classes and 24.5% started the year with a hybrid model. 
Talawanda's decision in August was made partially due to concerns of socially distancing students on the school buses. Now, the district also is concerned about substitute teacher shortages and faculty quarantines, said Theroux.
"Currently our entire food manager staff is quarantined," Theroux said. "If we were open, we would not be able to stay open because we would not be able to provide meals."
One of Theroux's recommendations is that parents "check their sources" and watch or attend Board of Education meetings to make sure they have accurate information. He said this has been an issue, leading to miscommunications, especially via social media.
"There are incorrect statement that no children have died from the virus," Theroux said. "We recently had a student in our county die from COVID."
While children can certainly catch the virus and be asymptomatic carriers who spread it to adults and others in their families, the Butler County Health District has not reported any coronavirus deaths under the age of 30 since the beginning of the pandemic, as of Sept. 11. The new COVID-19 cases are reported every Friday.
However, a 9-year-old Middletown girl, who tested positive for the virus died Aug. 19, at Cincinnati Children's Hospital Medical Center. Her death has not been attributed directly to the virus because she had other medical problems.
Parents at the protest suggested a few potential action plans for the district.
One suggestion was to send out an anonymous survey for teachers in the district to see where they stand. Some teachers would like to return to in-person learning, but won't say it "for fear of retribution," according to Puckett.
Although protesters want their children back in school, they were not calling for a mandatory return to all face-to-face learning. Rather, they are asking the district to provide families with an option to stay home or return.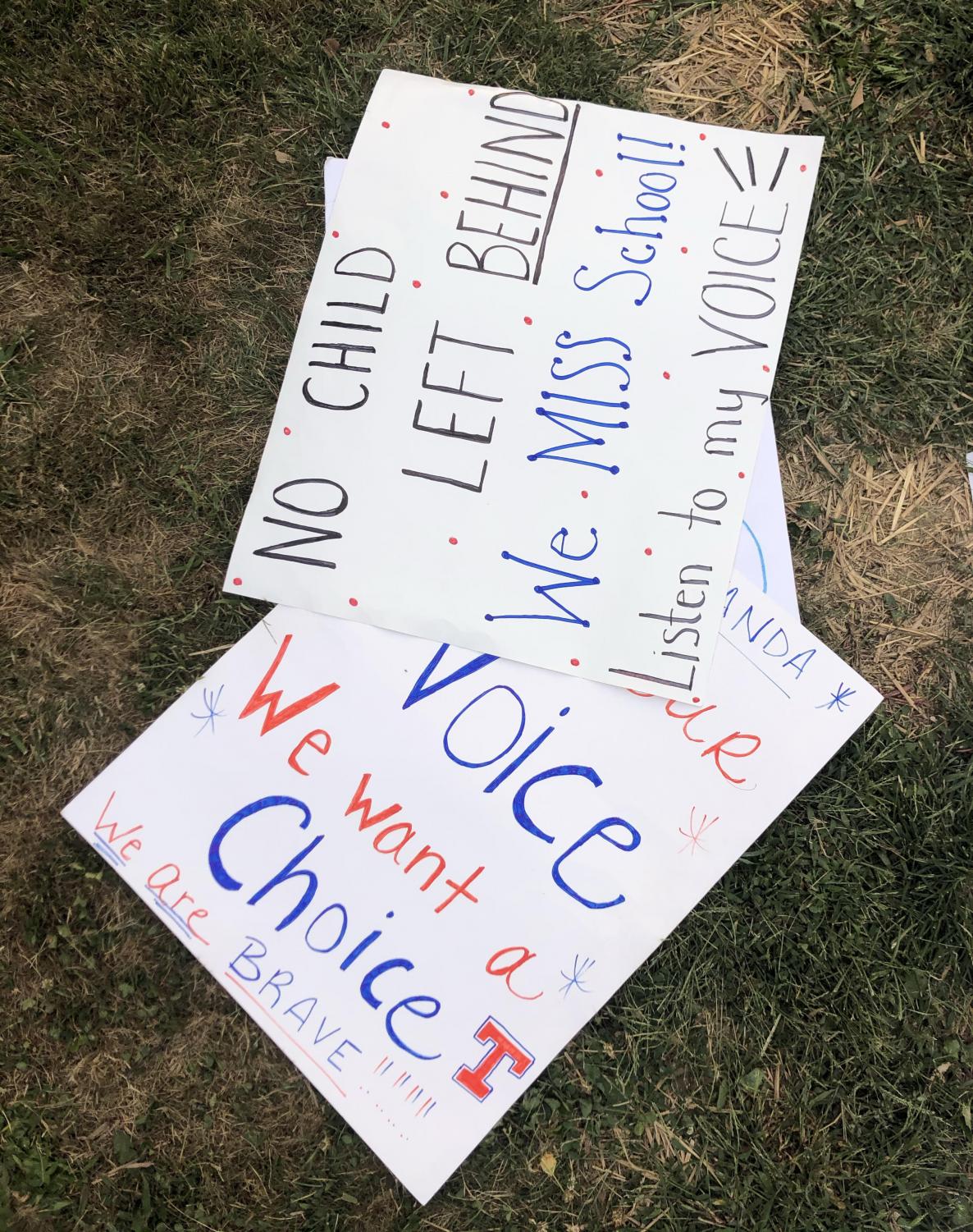 "We want everyone to have a choice," said Cobb. "We don't want to shut anyone's voice down."
The Board of Education is expected to begin discussing options for online, hybrid and in-person learning five to six weeks into the quarter, said Theroux.
Sept. 21 will mark the beginning of week five of the school year. The decision on whether to extend the all-virtual format or return to at least some face-to-face classes is expected to be made at the board's meeting Oct. 12. The second quarter of the school year begins Oct. 16.
Puckett is hopeful the protest will be enough to garner some attention from the board.
"They're hearing us," said Puckett. "But they're not really listening to us."