The Makos swim team is making moves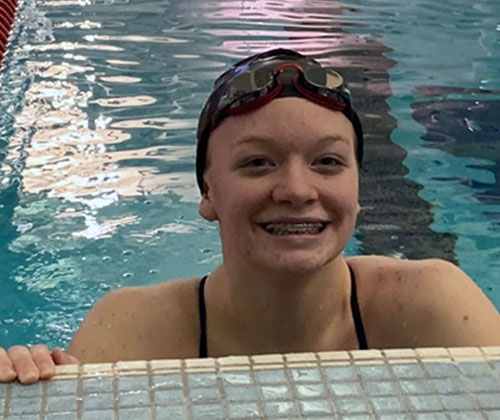 Some of the nation's top young swimmers call Oxford home.
The Miami Makos claim some of the best in the pool. Funded primarily through membership fees ranging from $1,000 to $2,000 per year based on age group, the Makos have strong sponsorship ties to Miami University. Head coach, Chris McKinney, is a Miami employee who rounds out his coaching staff with Miami graduate and undergraduate students.
"We're heavily tied to Miami," McKinney said. "We're a Miami-owned program, but none of our operating expenses come out of Miami."
In his second year as head coach of the Makos, after leaving the Springfield YMCA, McKinney said his team has made significant strides. So far this season, the Makos have set 19 new team records and three relay records.
‍
The Makos are led by young swimmers Anna Gregg and Maren Peterson along with Lucie Morris, a student at Tri-Village High School in Darke County.
Gregg, an 11-year old student at Kramer Elementary School, ranks in the top 100 for her age group nationally in five different events. She is currently the sixth fastest American swimmer for her age group in the 50-meter backstroke. Her teammate, 13-year old Peterson, is in the top 100 in three different events, ranking 49 in the 100-meter backstroke.
Morris has qualified for the high school state meet in both the 50 and 100-meter freestyle, one year after placing in the top eight in the 50-meter freestyle her sophomore year.
McKinney isn't surprised by these results. Swimmers, in his opinion, reap what they sow.
"Swimming is a sport that you get out of it what you put into it," McKinney said. "There's no substitution for time in water."
Though McKinney said the majority of Makos swimmers primarily live in the Oxford area, Morris is a rare exception, as she is the only member of the Tri-Village team. As a result, she is able to practice with the Makos due to her strong relationship with McKinney, a bond that was formed after years of swimming under McKinney at the Springfield YMCA.
"Chris and I have always had that swimmer-coach relationship where he understands me and helps me train," Morris said. "He has helped me become the swimmer I am today."
Morris lives quite the dedicated life as a swimmer practicing with the Makos. She drives two hours round trip five days a week for practice in Oxford, where the team practices at the Miami Recreation Center. She also lifts weights three days a week before school, making every effort to hone in on her craft as she pursues her goal of swimming in college.
"Ever since I was little it's been a goal to swim in college," Morris said. "I'm hoping that all of that hard work gets me there one day."
Though they boast high-achieving athletes, the Makos are more than just a place for hardcore competitors to compete. It is also a program for swimmers of all ages and commitment levels to enjoy the sport of swimming.
McKinney, in his second year running the Makos program, breaks his team down into four categories, with practice times ranging from four hours a week all the way up to 14 hours on a weekly basis.
The Makos aren't just for kids. It has no age limit for a swimmer. As a result, McKinney said the team has all sorts of athletes, including a 23-year old Miami graduate student who chose to swim with the Makos over a University club team.
"You can be 100 years old and still compete," McKinney said.
Despite claiming a few high-profile athletes in the swimming world, the Makos remains a relatively small team, compared to other notable swim clubs in Southwest Ohio. When McKinney arrived last year, the Makos had just 42 swimmers, a far-cry from the hundreds of athletes other clubs contain.
"By no means are we on the level of the Mason Manta Rays level, which is a 300-member club with probably future Olympians this year," McKinney said.
Still, McKinney remains confident in his growing club. His numbers increased to 60 members this year. Though he doesn't quite have enough to consistently push teams like the Manta Rays at bigger meets, he is confident the reputation of his program will draw more swimmers in years to come.
In his mind, once swimmers not on the Makos see kids they used to beat pass them up, they, along with their parents, will notice the impact his coaching can have. McKinney predicted this factor will only help the Makos going forward.
"That's the thing about kids that are having fun and going fast–I don't have to recruit, other kids start to see."
At this point, McKinney would like to get enough swimmers to put a relay together at every meet, a luxury other clubs enjoy, but the Makos cannot pursue due to the numbers restraint.
But he likes the talent in the pool that he has right now.
"We got kids to compete," McKinney said. "We're still working on getting the volume."