Talawanda High School's Braelynn Wagers Volunteered 1,400 Hours Last Year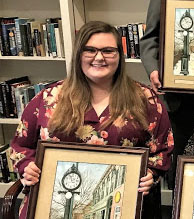 Talawanda High School senior Braelynn Wagers is an active young woman busy taking advanced placement courses, competing in national dance competitions and dreaming of someday getting into medical school.
She also found time in the past year to perform 1,400 hours of community service work. That's right, 1,400 hours – the equivalent of 35 40-hour work weeks, practically an entire school year worth of time.
For that effort she was named a 2018 Kiwanis Club Citizen of the Year in Oxford, and was honored at a Kiwanis luncheon on Feb. 19. Those 1,400 hours were spent on a project she organized to send aid to families affected by the 2016 wildfires near Gatlinburg, Tenn., as well as book drives and volunteering at the Oxford Senior Center.
Wagers has always been dedicated to community service.
She describes it as "anything you can learn from, where you're also helping the community."
"I've always learned something through my projects," she said.
Wagers, an only child who has lived in Oxford all her life, joined 4-H Club at just five years old, becoming a full-fledged member by the age of eight.
"I used to tag along when my older cousin was doing service projects, so I got into it through her," Wagers said.
Wagers has continued her involvement with 4-H and joined the Family, Career, Community Leaders of America club (FCCLA) at Talawanda High School. She also started a FCCLA chapter at Talawanda Middle School. FCCLA is a consumer science-focused club, with the mission of helping its members to be better "family members, wage earners and community leaders."
"I missed it when I was in middle school, so I wanted to give students the opportunity I didn't have to get involved early," she said.
Her FCCLA advisor Sharon Gregory, who has known Wagers for nine years, described her impact on the community as "everlasting."
"She's going to be remembered around here for a long time," Gregory said.
Wagers was moved to help Gatlinburg families in part because she knew the area well. Her family had stayed in the Smoky Mountains a number of times on vacation and Wagers had met some people affected by the wildfires at national dance competitions. When she isn't in class or doing service hours, she is a clogging and hip-hop competitive dancer and instructor at a studio in the area.
"Owners of the cabins we had stayed in on our trips told us that the cabins burned down as well as their houses. They were staying with family out-of-state, but they literally had nothing left. When I heard their stories, I just wanted to help them," she said.
Wagers organized a drive to donate food and toiletries to families that lost everything to the wildfires. She also adopted four families who lost one of their family members to the wildfire and arranged for holiday gift donations for them.
"We wanted to make it a brighter holiday season [for the families], so we did specific gift donations. Like, one girl wanted a curling iron and we got that for her," Wagers said.
Though she admits the volume of her service, in addition to taking Advanced Placement and college classes, can be daunting, she has a lot of support.
"I have a very, very good support network," Wagers said. "My family, my advisor and my community have really helped me with my time management skills."
Wagers is currently deciding between the University of Cincinnati and Miami University for her next steps. She will be majoring in biochemistry with an eye towards medical school. She hopes to become a cardiovascular surgeon, an idea that came to her after she had the opportunity to observe open heart surgery with a nurse anesthesiologist.
"I know that it's a lot of work, but that's my ultimate dream," she said. "If not, I'd like to be an ER doctor."
Wager's surgeon ambition stems from her past experience with medical issues and surgeries of her own to endure, something she says the Oxford community supported her through. Wagers has Ehlers-Danlos syndrome, which affects her connective tissues.
"It's caused a lot of problems," she says. "But wherever I went, I got help. People in the community would help me with small tasks like opening doors and carrying things and would give my mother a break from pushing me around in a wheelchair."
"My community has helped me so much and I just want to give back to them," Wagers said.