Talawanda's Destination Imagination team places third in international competition
A team of seven Talawanda seniors took home third in their age group in a global Destination Imagination competition against teams from all 50 states and over 20 countries.
The team competed in the science, technology, engineering, art and mathematics category, with a different challenge every year. This year, the goal was to build a mechanical device to move 14 puzzle pieces while having an imaginative, intertwined story.
The seven students–now graduates–built a system involving a 7-foot-tall crane and a cart with hydraulics to move the puzzle pieces. The team members had to learn how to weld and use a hydraulic system to bring together the 14 puzzle pieces into one pyramid.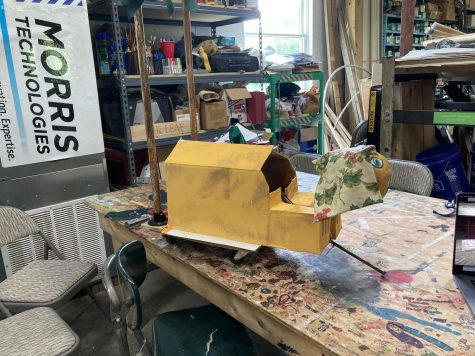 "We had a bike chain on the crane and some motors that we used to pick up some pieces and drag them along and put them on top of pieces already placed on the ground," student Anthony Greene said.
Greene has competed in Destination Imagination for 13 years. His grandfather Bill Greene, or Grandpa Billy to the team, has coached the team of Anthony, Emily Shoker, Damon Byrd, Isabelle Schroer, Charles Murray, Kelsey Wortman and Andrew Rothschild-Averbach for three years. 
Although they spent at least two days a week together preparing for the competition, they struggled to complete the pyramid building and skit within their allotted time, until the final, judged run.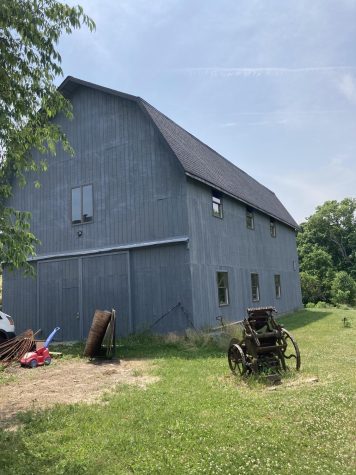 "It took us until the last attempt to get the whole thing within eight minutes," Schroer said. "We were over by 30 seconds on the last try before that."
The skit that Shoker and Wortman wrote involved an Egyptian king being killed by a snake and the Romans taking over. To make it all work, the team created costumes that showed the new rulers in town.
Shoker said the team was most proud of two parts of their presentation: the quick-change costumes and the music.
Byrd and Rothschild-Averbach created original music with an acoustic guitar and recorder. The music also included new versions of classics such as "Here Comes the Snake," which played during the king's demise.
"The point of the competition is to have fun," Greene said. "The judges love it when you make jokes and have puns included in your skit. The more ridiculous they are, the better they'll score you and the more they laugh."