Some Students Prefer Private Gym to Rec Center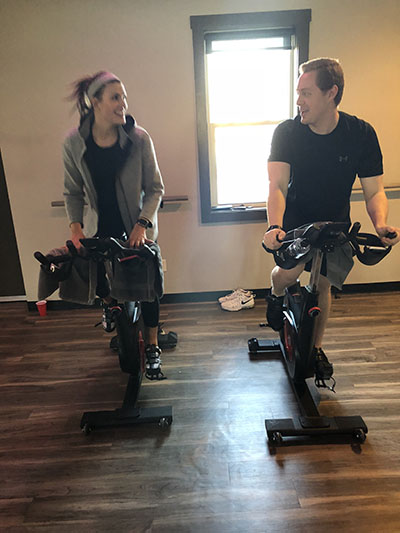 Jeffrey Plotka clips into his spinning bike at Royal 24, a swanky and upscale new gym in Oxford. He appears confident and relaxed mounted on the bike; clad in dark workout clothes and ready to embark on his cardio-intensive exercise session.
For Plotka, a junior at Miami University, being a member at Royal 24 allows him to work out in a more inconspicuous, private setting than the university's huge Rec Center. He contends that the off-campus gym doesn't have the crowds seen at the Rec and unlike the university center, Royal 24 is open 24 hours a day. That's a draw for some students who have joined and it has prompted Miami's Rec to consider a change in hours of operation at one of its satellite facilities.
"Honestly, I joined originally because it's not the Rec," Plotka said.
Even though all students have access to the Rec included with their tuition and fees, Plotka says he doesn't mind paying the monthly fee of $40 to be a member of Royal 24. He's used to high gym costs in his hometown of Long Island, New York, where monthly memberships can be up to $120. He says he enjoys Royal 24 because it offers a superior environment.
"It's brand new, everything's clean and it's very modern," Plotka said. "It's the nicest gym in Oxford."
‍
‍
Located at 507 S. College Ave., Royal 24 opened its doors for business in January of 2018. For co-owner and personal trainer Connor Lawson, the creation of the gym was the culmination of a long-desired vision and years of planning. He sought to create a luxury gym for the Oxford area.
"We wanted to make it the nicest gym in Oxford with the best equipment and environment," Lawson's wife and gym manager, Ashley Dowler, said.
Free Workout Classes and Personal Attention

The central room of the gym features sleek, marble laminate flooring, dark purple "club" lights glistening down from the ceiling and rows of exercise machines ranging from treadmills to bench-presses.
The business offers a variety of workout classes included with the membership fee such as yoga, pilates and a silver sneakers program for older adults. The club also provides a tanning service, which Dowler says is very popular among female members who no longer need to pay for a monthly tanning service.
"We know most members by the name; people come here for more than a workout," Dowler said. "The private gym feeling caters to a more personal experience."
Dowler says that the gym's membership is a 50/50 split between students and residents, with international students making up a good portion of the Miami student memberships. During business planning, the owners anticipated and hoped for a high amount of Miami students to join.
"We tried to make it where this would be home for everyone," Dowler said. "We offer special services for the seniors and things like the dark club lights appeal to the students."
She also notes that word-of-mouth communication has served as the business's greatest form of marketing, as the gym continues to grow. As of Jan. 1, they have already signed up almost 200 people.
"We have the membership base that we need," Dowler said. "Students have stayed loyal as well. Almost everyone from the spring of 2018 renewed their membership for the fall semester."
Competition for the Rec

On Miami's campus, the Rec Center has been a staple since its opening in 1994. Offering a plethora of activities including group fitness classes, aquatic programs, rock climbing, basketball and more, there is no shortage of ways to work out.
Executive Director for Recreation Services Doug Curry has worked in Miami campus recreation since 1995. He says the opening of a new gym in Oxford is like a shiny, new penny that people are naturally drawn to. Curry remains well aware and partly bewildered that some students choose to pay for off-campus gyms.
"You have different types of people who like to work out in different types of environments," Curry said. "The other gyms don't have a hot tub and a rock-climbing wall. It depends on what you want to use."
‍
‍
The Rec also offers monthly memberships to community members not affiliated with the university for $40.75.
Curry's department consistently seeks to improve the campus facilities and user experience. It conducts a survey twice a year to gauge student feelings in regard to the Rec—with the chief complaint typically being over-crowding and the availability of open machines. From this feedback, his department has worked to alleviate the congestion.
"The survey really spurred the thought to open other centers," Curry said. "We did this with the mindset it would draw people away from the main Rec."
Miami now boasts smaller indoor satellite facilities around campus such as the North Quad Fitness Center, Clawson Fitness Center and Chestnut Field House. Curry mentioned that the overall attendance at the main center has declined recently, but he believes this is because the new smaller facilities are attracting students.
"There hasn't been a time this year that you can't get on a piece of cardio equipment," Curry said. "It's the first time since this building has opened up."
Curry said that new local gyms have come and gone in the past. But the attraction of a 24-hour gym has not gone unnoticed at the Rec, Curry said. Regular hours at the campus facility are 6 a.m.-11 p.m. Monday through Friday, 8 a.m.-11 p.m. on Saturday and 10 a.m.-11 p.m. on Sunday.
"We are exploring a scenario to make Chestnut Field House open 24 hours," Curry said. "We are writing up a proposal."
Meanwhile, over at Royal 24, Plotka concluded his spinning workout and wiped his face with a towel. The Rec may have fewer people than it used to, as Curry suggested, but compared to the private gym, it is still crowded as far as Plotka is concerned.
"The Rec is packed with people 24/7," Plotka said.
Well, not 24/7 yet.