Gambling on the rise: Newgate arena rebrands as Newgate Poker Club
Beyond the clamor of Brick Street's Wednesday country night, the quiet side of High Street hosts a high-stakes poker game. Miami students and local residents put money on the table for a chance at winning big.
Newgate Poker Club, 35 W. High St., opened for business as a gambling venue in March 2021, though it previously operated as a video game arena as early as 2019. The change in focus was prompted by a change in clientele over the pandemic.
"We had a lot of international students that would come to play Dota and League of Legends. Because many went home and didn't come back, our owner decided to switch to poker," manager Grayson Biddle said.
Many aspects of the old business still carry over into the new one, as poker players sit in expensive gaming chairs and the building's sign still reads "Newgate Arena."
The club gets most of its business on Sunday afternoons, when $5 tournaments are held, according to Biddle. These tournaments are intended to attract new players, and often result in about 40 people playing at four to five tables.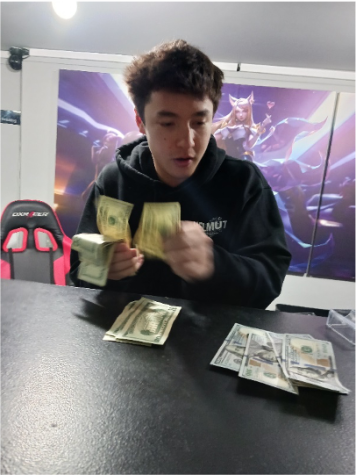 Regular player Greg Ruther had a good night at the table Wednesday. Ruther lives in College Corner and said Newgate's convenience was important for him.
"I used to have to drive an hour to the casino in Lawrenceburg, Indiana. Now it's about a five-minute drive."
The weeknight games are where serious players like Ruther come to do battle. Wednesday night's "No Limit Hold'em" game had a $100 buy-in and some players were betting several hundred dollars.
Ruther said the weeknight games can get expensive.
"Some nights if you don't have a thousand, you don't have much money at all," he said.
Despite the high stakes, Ruther said the atmosphere remains friendly.
"It's probably the best cash game I've played in the last 10 years," he said.
Dealer Bridget Brazelton oversees the games on Tuesdays and Thursdays. She has been working at the club for three months and said she didn't know much about poker until she began working at Newgate.
She said she has seen conflicts erupt at the tables.
"There have been some very disrespectful names being called and threats made, but nothing physical has actually happened," she said.
Gambling is booming in Ohio and across America due to wider legalization of sports betting. Biddle said he has noticed customers are eager to watch games they have bet on while playing poker.
For Newgate Poker Club, the start of every semester is a new opportunity.
"Students have more money to spend at the beginning of semesters and there's a lot more novice players that show up then," Biddle said.