Miami tennis serves a strong start to the season
As Miami womens tennis gears up for a busy spring schedule, the team has already logged key wins in five non-conference matches while gaining important experience before the Mid-American Conference (MAC) season begins. 
"I feel pretty good with this group," Head Coach Ricardo Rosas said. "They're very competitive and they understand now even more what it takes to win a championship." 
International roster
After finishing the 2022 season with an overall record of 14-11, winning the MAC East title with an 8-2 conference record and placing third in the MAC postseason tournament, only one student-athlete graduated. This season, the roster features a mix of returning veterans and newcomers. The returning roster is headlined by 2020-21 MAC Player of Year Laura Rico. Rico- a fifth-year player- is joined by one senior, seven sophomores and freshman Montserrat Sierra, originally from Mexico City, Mexico. The RedHawks hail from nine different countries in total.
"Even though it can be a conflict sometimes, I feel like it makes us a better team," Sophomore Emilia Valentinsson (Sweden) said about the team's diverse makeup.
Despite most players having only been together for one season and featuring nine different nationalities, they're close-knit and like to joke around at practices and workouts.
"[When we're] off the court, we have fun," Valentinsson's doubles partner Sara Zalukar (Croatia) said. "Our van rides are super fun, we're just blasting music and singing."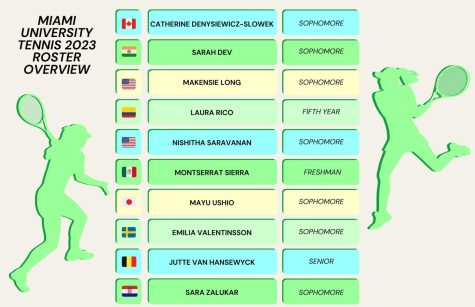 Coaches
Now in his seventh season, Head Coach Ricardo Rosas is 54-53 overall and 26-15 (MAC). Rosas spent 15 seasons as assistant coach for the RedHawks and helped guide the team to eight straight MAC season titles between 2009-2016.
"He is very supportive but also tough,"  Zalukar said. "Ricardo really pushes us to be better."
Rosas welcomed new Assistant Coach Champy Halim to his staff this season. Halim returned to Oxford following a playing career that saw him win MAC Freshman of the Year in 1996 and MAC Player of the Year in 1997.
Like the players, the two coaches bring an international background to the team. Halim is from Indonesia and has represented the country in the Junior Davis Cup and has also played professional matches at Wimbledon, the French Open and the Australian Open.
Rosas hails from Mexico and began his tennis career competing at Wimbledon, the French Open and the U.S. Open at the age of 18. He also coached the Mexico National Team in the 2018 and 2019 Fed Cup.
Expectations for the Season
The RedHawks return to the hard court in Charleston, South Carolina for matches March 10 against Charleston Southern and March 11 against the College of Charleston.
"It's close to where I'm living right now–North Carolina–so my parents are gonna come down and watch us play," Sophomore Catherine Denysiewicz-Slowek said. "So I'm excited for that."
Until then, the RedHawks are enjoying a few weeks off from competition–practicing and training–which allows for both rest and preparation.
"When we have a week off or something, it just feels weird," Zalukar explained, "like–with all the free time."
The RedHawks will begin conference play March 19 on the road against Buffalo. The team's MAC home opener is set for March 26 against Western Michigan. 
Once the regular conference season is over, the team will travel to Ball State April 29 for the MAC tournament.  The RedHawks will be looking for redemption following last year's 4-1 semifinal loss to Toledo.