Talawanda baseball defeats Hamilton in redemption game
Under the lights at Hamilton High School, the Talawanda Brave baseball team defeated the Hamilton Bulldogs in 7-3 a non-conference game April 30. 
The win was a redemption for the Brave, who lost to the Bulldogs 16-1 last season.  
In the second inning, senior Brave starting pitcher Brennyn Bell-Bucher had to leave the game due to an apparent elbow injury. Head Coach Matt Lykins was forced to make an unplanned pitching change, bringing in sophomore Zachary Fisher. 
"We've never had that," said Lykins. "Normally you can't get the ball out of his [Bell-Bucher] hands. The fact that he did that was a real panic start."
Lykins reported after the game that the coaching staff was at least hopeful that everything will be alright with Bell-Bucher's injury.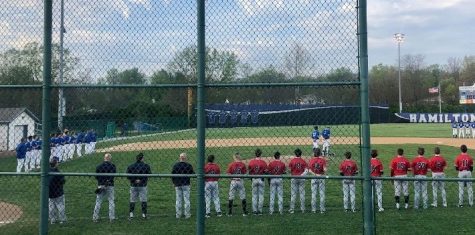 The fourth inning proved to be a turning point for the visiting Brave. The frame started with base hits from senior infielder Parker Geshan and junior Max Mesler. Senior Mason Birkemeier's double plated both baserunners. 
The Brave was not done yet, as freshman Ryan Wright's double brought Birkemeier home.
Talawanda ended the fourth inning with a 4-1 lead and redemption for last season's blowout loss appeared on the horizon. 
The Brave brought out Birkemeier to pitch in the sixth inning. 
"I'm always ready for it," said Birkemeier. "It felt great, for the first time in three to four weeks to be out there." 
Giving up only one hit, Birkemeier did what needed to be done to keep his team in front.
Talawanda added another run in the top of the seventh inning thanks to a perfectly executed sacrifice bunt from freshman Eddie Tanner, bringing home teammate Max Mesler from third base. 
"We played really good baseball. We did the little things and we executed," said junior catcher Blake Detherage. "We shut 'em down."
Talawanda leads the Southwest Ohio Conference with a league record of 10-2 (14-5 overall). The Brave play at Lakota West High School May 9.