April showers bring May meowers
At a typical baby shower, guests show up with bibs, diapers and onesies. On a recent Saturday, guests came bearing catnip, bags of Friskies and tiny baby bottles for the rainfall of kittens expected this spring. 
The annual kitten shower fundraising event organized by Cat Care Coordinator Kim Sunberg at the Animal Friends Humane Society in Hamilton. The April 23 event included an afternoon filled with fun including guessing games, crafts, a photo wall and refreshments. 
"COVID made last year's fundraiser virtual, so we had to go all out this year. It's always a fun event and it helps us get ready for peak season," Sunberg said. 
The humane society is expected to receive close to 3,000 kittens this spring and is taking all the help it can get. Its Amazon registry, much like a real baby registry, is filled with items that every adopting or foster family needs for their new furry friend. By the end of the afternoon, a baby crib was full of food and treats.
This location is the only open admission shelter in Butler County, meaning it takes in any sick, injured or abandoned stray cats. It always has plenty of adoptable felines.
Other than adoption, Sunberg explained that fostering plays a key role for the kitten season. Last peak season, there were 250 kittens in foster homes at one time. Currently operating out of 73 active foster homes, she said she almost always can get a same-day placement for a litter with the click of a Facebook post.
"Bottle babies are the hardest to find homes for. They need to be fed every two hours and pretty much rely on the foster for needs," she said. "It's a great hands-on experience and the most rewarding."
Helping hands
The humane society runs on volunteers. Whether it is only a few hours each week or every day, there is always something to help with.
Debbi Hess, who has been an Animal Friends Humane Society volunteer for seven years, admires the opportunities she's been given after her retirement.
"I can come and go as I please while also having fun…and I love to pet the new babies," Hess said. 
She assists Sunberg in cat transports from Kitty Brew Cafe, multiple PetSmart locations and house hoardings. Her most recent project has been sewing curtains for kitten cages so the babies can get as much sleep as possible —  especially daytime cat naps.
The shelter's volunteer page is easy to access, and the organization holds multiple orientations each month to get helping hands on board for the busy seasons.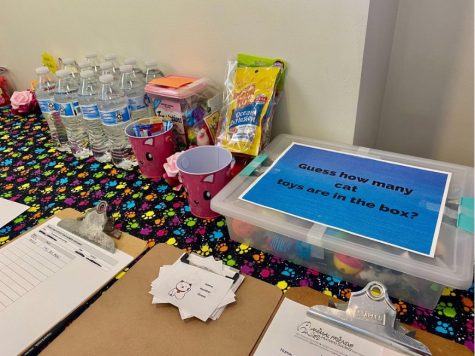 For the future
In addition to volunteers, education and outreach are essential parts of the humane society. Outreach Coordinator Sarah Lewandowski emphasized the importance of these programs. 
"We are really setting the future for the next generation of pet owners from a young age. Teaching kids how to interact safely with animals creates longer positive relationships and prevents them from being re-homed," she said.
Lewandowski travels to do Petmobile events with adoptable pets, classroom visits and other community related events. 
"Serve anywhere that you are passionate about whether it's an animal shelter or food bank. No amount of time is too small and giving back is really important in any way," she said.