Sculptor forms statues from Oxford's scraps and natural resources
When Noah DiRuzza goes hiking in Oxford, he isn't just enjoying nature; he's hunting for sculpting materials. Through May 13, four of his life-size human figures made by combining organic and manmade scraps found around Oxford trails will be on display at the Miami University Art Museum, 801 S. Patterson Ave.
DiRuzza, a Miami graduate student at Miami, began pursuing a master's degree in fine arts in painting. He had tried sculpting before, but a winter hike on Gorge Trail in Cuyahoga Falls, Ohio inspired him to return to sculpting with a completely different approach.
"I saw rusted bike parts frozen under a waterfall and I stopped and thought, 'I know I could use this somehow for my art,'" DiRuzza said. 
When he returned in the summer to find the parts intact, he used them to create the first in what would become a new personal style, crafting branches and stones into torsos and limbs. Years later, DiRuzza regularly uses Hueston Woods and Peffer Park for the same reasons. 
Miami's campus, which DiRuzza described as "a beautiful place surrounded by beautiful woods," is an effective resource, though he admits that his study of human anatomy through environmental material has certainly impacted his relationship with nature. 
"Instead of going out and just being in the environment, I'll walk around and see kneecaps and teeth," he said.
However, sometimes the analogy is not much of a stretch. The head of one of DiRuzza's recent sculptures — a female form that appeared to be frozen in a ballet dance — featured exposed bone on the right side of the jaw. One of DiRuzza's hikes led him to the skeleton of a deer, from which he took the jawbone and, indicating other parts of the sculpture, also used pieces of its ribcage and femur.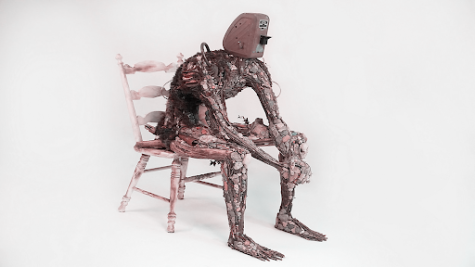 Depending on what stage of the project he's on, DiRuzza approaches his gathering in different ways. He begins by making numerous clay mock-ups of the figures to get an idea of the final product. When he starts working on the final sculpt, a process which he says takes generally six to eight weeks, he focuses first on defining the bigger abstract details. 
"[These sculptures] are a huge investment, so it's important to know that a form works before I start on one," DiRuzza said. "Once I've worked on it for a while, I can start getting really specific about what I need."
Beyond bones, the more specific features of his latest sculpture include very specific shapes of rock, hardened fungi and fragments of plastic soda bottles. He was careful to select pieces that kept parts of the anatomy exposed, allowing the LED strips fed through its interior to shine through.
The finished piece breaks apart into large pieces, allowing for an easier transport into the art museum for his thesis show. Upon entry, visitors of the exhibit will see a live feed of the museum on a screen. When they come across the statues, the feed will be revealed as footage captured by cameras in the statue's eyes. Afterward, DiRuzza will face a quick turnaround at the end of the semester, defending his thesis on May 9.
DiRuzza expressed gratitude for the relatively free structure of his graduate program, which allowed him to experiment and concentrate on productivity with the guidance of peers and faculty. It was through this opportunity to explore the many facets of visual art that DiRuzza felt he was able to latch on to such a unique medium. 
"It's important to be shown a range so that you can really find what you're interested in," DiRuzza said.
This is a philosophy of the arts that DiRuzza has carried with him as a professor. During his tenure in the program, he taught multiple introductory courses in the university's art department. When working with students, who are often first entering their college careers as artists, DiRuzza said, it was especially important to highlight the variety of paths they can pursue. 
"To me, (teaching) is about letting the student figure out what they want to become and helping to guide them on that path by showing them a variety of materials and artists," he said. 
On the other end of his path as an art student, DiRuzza indicated that he had been given that opportunity. In the middle of packing his studio on the second floor of the Art Building, he reflected on the remarkable resources he had taken advantage of here.
"It could be a while before I have a studio as nice as this one," he joked.