Talawanda baseball beats Edgewood to reclaim SWOC top spot
Powered by back-to-back wins over Edgewood High School, the Talawanda Brave baseball team reclaimed first place in the Southwest Ohio Conference (SWOC). The Brave won at Edgewood April 20, 4-1 and beat the Cougars again two days later in a 10-0 home game shortened by the mercy run rule. 
In the April 22 matchup, Talawanda pitcher and junior Noah Prewitt took the mound. He started the game off with a strikeout before hitting an Edgewood batter. It didn't matter, as the Cougar third batter ripped a line drive to the third baseman who promptly fired the ball to first base to catch the ball and the runner, ending the inning. 
It was an omen for the rest of the game. Prewitt dominated the Cougar offense with his fastball-curveball combo while the Brave defense backed him up.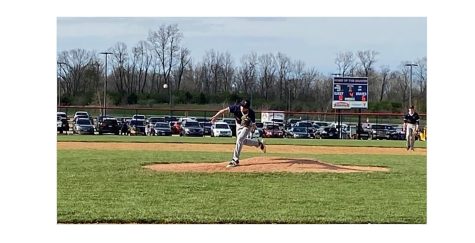 "What worked for me best was my defense behind me," he said. "I mean, everything that was hit to them, they caught it. So, I can't be upset about this entire game."
From there, the Brave offense went to work. Senior shortstop Parker Geshan ripped a double into the right center field gap. Talawanda then took an early 1-0 lead after a passed ball allowed him to score. Geshan went 3-4 on the day.
"It felt pretty good considering I've been slumping the last week or so but y'know you just gotta kinda stick with it and mentally stay with it," he said. "Just keep working hard at practice, keep working hard pregame. It felt great."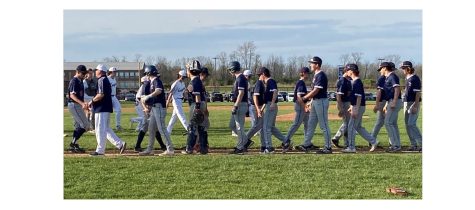 The offense didn't slow down for Talawanda. The Brave continued to take advantage of defensive mistakes from the Cougars. Senior outfielder Mason Birkemeier reached base thanks to an infield single and then stole second. After junior catcher Blake Detherage walked, a wild pitch allowed both runners to advance. Then senior second baseman Blake Puckett connected on an infield single to score a run. 
The lead stretched to 3-0 when a delayed steal allowed Detherage to score. By the end of the inning, the lead was 6-0, and the Brave never looked back. 
By the fifth inning, the Brave had scored 10 runs without allowing any to force the mercy rule. Prewitt finished the game allowing just two hits while striking out three for his SWOC-leading third win of the season. Head Coach Matthew Lykins said he was satisfied by his team's performance during the week. 
"Two out of three against Harrison, Edgewood and Ross puts us in a really nice spot, so we couldn't be happier rolling into the weekend," Lykins said. 
The star of the game along with Geshan was Prewitt, who is now hitting .513 on the season.
The team is now 10-2 in the SWOC and 13-5 overall. The Brave play next at Hamilton High School  Saturday, April 30.