Oxford to host 412 youth soccer teams
The EPIC Cup Soccer Tournament is coming back to Oxford in full scale for the first time since 2019. Over the next two weekends, 412 youth  teams will come to town to play for a 50 inch, 52 pound trophy. 
Since 2016, the EPIC Cup has been put on by the Cincinnati Soccer Club, commonly known as Cincy SC. The club's mission is influenced by the EPIC model: excellence, player development, integrity and community. 
"It's been a great partnership with the City of Oxford and the parks department," said Brett Dickson, EPIC Cup tournament director and Cincy FC communications director and founder. "I can't say how much we appreciate that and hope this relationship continues. We enjoy coming up to Oxford each year. We are always looking to encourage more local involvement." 
This weekend, 172 girls' teams from U9 to U19 (under age 9 to under age 19) will compete. Next weekend 148 boys' teams from U9 to U19 will compete. This is the first year the tournament will include the Junior Division, which includes 92 boys and girls U7 and U8 teams and will be next weekend. 
In all, the event will bring 6,500 players and coaches, their friends and families, and several hundred referees to Oxford. The tournament also attracts some college scouts. 
The teams will mostly play at Oxford Community Park, although some games will be held at Cook Field and Leonard Howell Park.
The EPIC Cup encourages good sportsmanship by giving integrity wristbands to referees, who then give them to players who stand out in each game. In past years, this wristband was given from the other team, but Dickson said they decided to make the change to encourage respectful relationships with officials. 
"What we really want to do is encourage great sportsmanship," Dickson said. "As adults, we should all be in this together to encourage player development and love of the game, but I think we lose sight of that sometimes. This is one way that we can remind everyone that we are all in this together." 
There is a referee shortage nationwide, so Dickson said he also hopes that this will spark a positive interaction between officials, parents and players, which could encourage some to begin refereeing.  
Another unique aspect of this tournament is the size of the trophy. Dickson said when he and his partner Russell Lewis began the club and the tournament several years ago, they knew they needed an epic trophy for the EPIC Cup. Winning teams get medals to take home but get to take pictures with the giant trophy and attempt to hoist it up. 
"It's one of the reasons the EPIC Cup stands out," Dickson said. "The giant trophy is one of the things that kids get excited about. It helps draw teams to our tournament."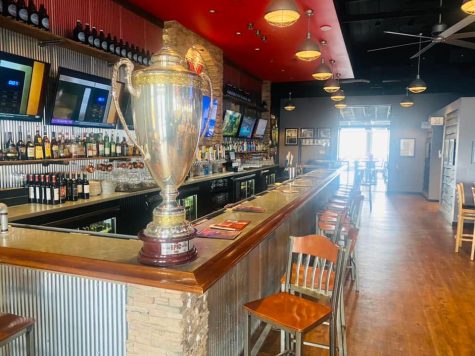 The trophy stands 50 inches tall and weighs 52 pounds. This is more than a foot taller and over 10 pounds heavier than the Stanley Cup awarded for the National Hockey League championship.
The tournament has been quickly growing since its start in 2016. It has been played in Oxford since 2017. Tournament attendance has grown almost 45% from 2019, the tournament's peak year before the COVID-19 pandemic, to this year, said Dickson. 
In 2020, the tournament was canceled due to the pandemic. Last year, the tournament was held, but the number of teams was purposefully kept low at just 204 teams to keep those who attended safe. 
Cincy SC has been working closely with the City of Oxford to ensure the tournament runs smoothly, and to encourage business in the Oxford area. Both Epic Cup and Enjoy Oxford have their own scavenger hunts that feature stops around the city to encourage tournament attendees to explore. 
Oxford does have some constraints, such as field space and lack of hotels. The tournament had to turn down around 20 teams, which Dickson said is rare. Cincy FC has considered moving the tournament out of Oxford to a bigger area, but Dickson said the club has had a very positive experience in Oxford and does not plan on moving anytime soon. 
"We're happy where we are," Dickson said. "Oxford is a special place, and we are here for a reason." 
Dickson said he is hoping for good weather both weekends, but contingency plans have been made and Cincy SC will work to ensure all teams get to play as much as possible, despite bad weather.