Musicians play for farmers market
On Saturday mornings, Oxford Farmers Market is filled with shoppers seeking fresh produce. But when the weather is clear blue skies and sunshine, the market also is filled with music.
Dave Sams is one of the two musicians who come out to play some live music, serenading the customers as they shop or look around. 
"It's so much fun sitting around and playing things," Sams said. "Looking at the families, the dogs, the babies, and the young people in new styles of clothing. I can play just about anything I want. I can just relax and enjoy, so I just have a good time."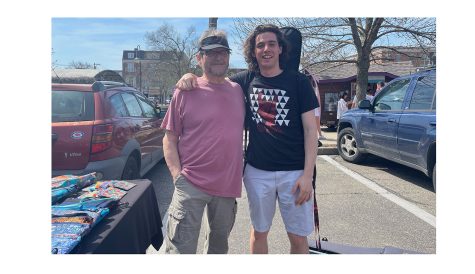 Sams was about 10 or 11 years old when he picked up a guitar for the first time. He also plays the ukulele. The Hamilton resident was a music major, focusing on voice, at Miami University for a year and a half. He then dropped out and played in a band all over Europe while serving in the army. 
"It was all about public relations," Sams said. "We played events in support of NATO. We would play festivals and fairs, beer tents and wine tents."
After returning from Europe, Sams toured around the United States with different bands and artists. 
During the pandemic, Sams didn't have a lot of work to do. He was friends with Larry Slocum, the market's manager, and Sams emailed him. The market allowed him to play, but Sams was timid since there was already a successful band playing every Saturday.
"I tried to fit in," Sams said. "I tried to not play too loud and not sit anywhere close to them, so we could blend together, and we could both work."
People can hear Sams cover songs by Americana, The Grateful Dead, and Kate Wolf. He enjoys playing classic rock and acoustic blues. Sams mentioned that he also takes requests from the people shopping at the market, and they tend to be songs he knows.
"It seems to be the right crowd," he said. "It's just kind of built in to play that folksy and artsy stuff. [The costumers] are artsy and rootsy people. Many of them are my age-old hippies."
When Sams isn't playing at the Farmer's Market, he can be found teaching at Third Street Music in Hamilton from Mondays through Thursdays, and he sometimes brings a student out to perform at the market. He also likes to write arrangements for acoustic guitar. 
Jericho Old Time Band was the band that had been playing at the market already when Sams started. The bluegrass band consists of four members — Dale Farmer, Warren Waldron, Judy Waldron and Amy Clay. The band formed through their love of music.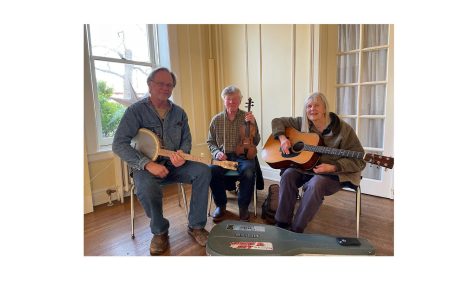 "There's just a big network of old-time and bluegrass musicians all over," Farmer said. "We just got together to jam at the Farmer's Market, very informally." 
Soon enough, Jericho would be asked by community members to play at several different events. The band even starred in a film, "The Mountain Minor," that was shown nationwide. The film started showing in theaters, but then the COVID-19 pandemic hit, so Amazon picked it up. Since then, the film has been streamed on Amazon, public television, The Family Channel, Heartland Network and Retro TV. 
The group of four specializes in playing and singing songs that were passed down from generation to generation. Some of the songs they sing date back 100 years. 
Like Sams, Warren Waldron asked Slocum if their band could play at the market. 
"I thought our music would fit in kind of nice," Warren Waldron said. "[Slocum's] response was 'absolutely.' I said, 'Which Saturday?' and he said, 'Every Saturday.'"
Even though the band has gained some recognition, the group of four keeps coming to play at the Oxford Farmer's Market because it's good practice and they find it fun to connect with other people through music. The band loves to hear about how the customers remembered the songs they sang from when they were children. 
"People walk by and then they'll start swinging apart with the person who's with them," Judy Waldron said. "They'll start to dance as they're walking by."
The band always ends the Farmer's Market with "The Bell Cow," and the four have observed that the vendors have picked up on the lyrics and will all sing along as they pack up for the day.
Farmer mentioned that he feels a sense of community while playing in Oxford. And as someone who isn't from the town, he feels like he's a part of it. 
"I can walk around, and people say hi to me like I've lived here all my life," he said. "That whole sense of community and contributing something to the communities through music has been wonderful." 
Jericho always invites people to participate, and they love it when other people play with them. 
"I wish people would find an instrument, bring it up and come and sit down," Judy Waldron said. "If they want to play with us, that's what they should do. Learn the songs from us and play and sing with us. It's a community."