Oxford releases first draft of comprehensive plan
The City of Oxford revealed the first draft of the Oxford Tomorrow comprehensive plan Monday, April 18 at the second public input meeting for the plan. When finalized later this year, the plan is to be used as blueprints for the city's future needs and policies.
About 100 people attended Monday's public meeting, held at the Oxford Bible Fellowship church on Maple Street. Those who were unable to attend the in-person event, can still participate by filling out an online survey. 
The city and MKSK, the urban planning firm it is working with, came to the first public input session with goals for the city. Based on the feedback from that session, they now have identified objectives.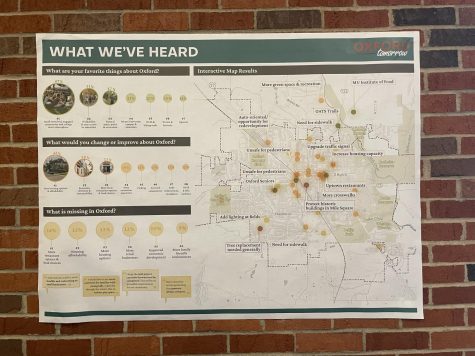 Objectives are more specific, measurable strategies within a certain interest area. At this week's event, the Oxford community was able to give feedback on the language of the objectives, as well as suggesting actions that could be taken to complete them. 
"Now that we have this general understanding of the direction we want to head as a community, or set of communities, moving forward, where we are is the 'how,'" MKSK Senior Associate Kyle May said. 
May encouraged community members to think about not only what Oxford can control, but also what it can influence and accomplish through partnerships, when making suggestions for the plan.
The following is the draft of the overall vision statement that was presented at the meeting:  
"Oxford, Ohio will be a welcoming, vibrant, and environmentally-friendly college town where education is valued and all generations have access to essential infrastructure as well as amenities that enhance quality of life, including an integrated mobility network, job opportunities for a diverse workforce, quality cultural and recreational assets, and housing for all."
Based on the vision statement, the following draft goals were identified:  
Embody the principles of smart growth 

Promote a connected, livable and equitable community for all 

Offer housing for everyone

Exemplify environmental stewardship 

Facilitate safe and efficient travel for all modes of transportation 

Celebrate the people and place that make Oxford unique 

Cultivate a thriving and resilient year-round economy

Ensure accessible, high-quality infrastructure 
The language for the objectives under each of the goals can be found in the online survey. At Monday's event, community members could place sticky notes with suggestions on the boards for each goal. 
There was also a board that asked community members to consider land use. They could use colored dots to show where they wanted employment centers, green spaces or traditional neighborhoods.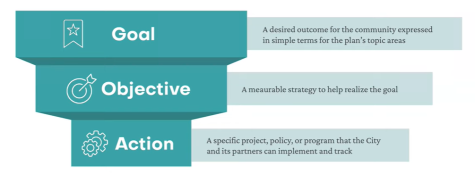 Community members, Evan Pitts and Robert Bell, each said they wished Oxford had more employment centers and better public transportation. Pitts, a 2015 Miami graduate, said he thinks this would attract more people his age to Oxford and would entice more Miami students to stay in Oxford after graduation. 
The date of the third and final public input session has not been announced, but community members will be able to comment on the next action steps for this comprehensive plan through the feedback received at this week's event.