Miami tennis drops senior day showdown to Toledo
A 4-3 loss at home April 16 to the University of Toledo left the Miami women's tennis team disappointed on senior day. 
Senior Brindtha Ramasamy felt the pressure of a 3-3 tie, knowing that the result of her singles match against Toledo's Cassie Alcada would determine whether the RedHawks would win or lose their home Mid-American Conference (MAC) finale. 
Although Ramasamy could not pull off the win, dropping the match 4-6, 6-1, 6-7, she fought for every point, showcasing her senior leadership during the tight third and deciding set. 
"Everyone was fighting and giving 100%, that's all we can ask for as seniors and as leaders, that everyone goes on the court and gives their all." Ramasamy said after the match.
The RedHawks were able to capture two of three doubles matches against Toledo, as Ramasamy and her fellow senior teammate Laura Rico won their match as well as the duo of Sarah Dey and Emilia Vanetinsson.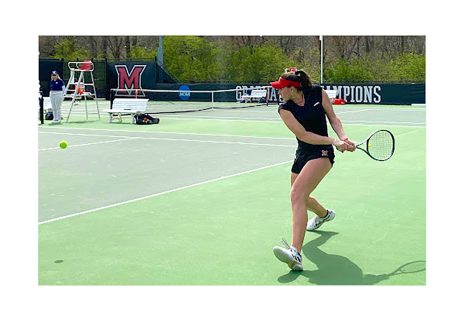 The visiting Rockets did their damage on the singles side, collecting wins in its top four matches against Miami.
As the regular season winds down, senior Rico said she feels confident about leaving the RedHawk tennis program in great hands with their seven freshman teammates. 
"Something great about the freshmen is that they don't only work well as a team but also they fight all the time just for us [the two seniors Ramasamy and Rico] and they show that every day." said Rico. 
Head Coach Ricardo Rosas was proud of his team for fighting, while also noting that it still has a lot to prove in the final two season matches before MAC championship play begins April 30 in Muncie, Indiana.
"I am proud of the fight; the team didn't stop fighting. But I am obviously disappointed because at the end of the day we fight to accomplish something special, and that requires winning." said  Rosas. 
The RedHawks' record stands at 12-10 (6-2 MAC) as it heads to Bowling Green April 22 and then Buffalo April 24 to wrap up its regular season schedule.