EarthFest activities in Uptown Park Saturday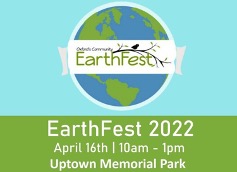 Oxford will help you get in the mood for Earth Day with EarthFest 2022, a day of fun and festivities, from 10 a.m. to 1 p.m. Saturday, April 16, in Uptown Memorial Park. 
EarthFest is a free event with games, interactive booths and seminars, live music and the Oxford Farmer's Market.  Earth Day, a national day that recognizes the environmental needs of the planet, is Friday, April 22. 
Saturday's EarthFest will include hands-on demonstrations and interactive learning experiences to create a vibrant and welcoming environment. The event is dedicated to raising awareness of environmental issues in the Oxford community.
EarthFest is a collaboration between the city and Miami University to improve awareness of sustainability issues. More than 15 student groups and Oxford organizations will be on hand to engage with the community and provide engaging activities for people of all ages.
You can RSVP for the event through the Hub or Enjoy Oxford!