Officers investigate robbery and garbage dumping incidents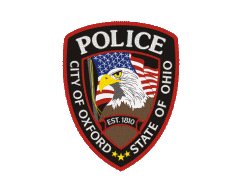 Armed robbery and garbage dumping were two of the most interesting cases reported by the Oxford Police this past week. 
A gunman robbed the Red Ox Drive Thru, 95 E. Chestnut St., at about 11:15 p.m. Saturday, April 9, escaping with more than $1,000, according to Oxford Police.
According to the police report, the suspect was described by an employee of the store as a black male in a face mask and a black sweatshirt, carrying a black backpack. The employee told police the suspect pulled a handgun from his pants and forced his way through a door the cashier was trying to close.
The gunman then forced the cashier to put money from the register into a bag before fleeing on foot.
Another employee at the back of the store exited the building during the robbery and had a passerby call the police, the report said. 
In other police news, a local restaurant accused of dumping its trash into the bins of a nearby apartment complex received a warning from the Oxford Police to stop or face criminal charges of theft and littering, according to a police report.
Poplar Asian Cuisine, 20 S. Poplar St., has been accused of dumping its trash in the bins of apartments managed by Oxford Real Estate on East Walnut Street, according to the police report. Donna Gross, representative of the real estate company, filed a complaint with the police on April 4, saying the company had been trying unsuccessfully to resolve the issue without involving the police for two years. 
Gross told police there was so much restaurant trash in the bins that there was often no room for the apartment tenants to dump their waste. 
The report said OPD contacted the restaurant owner, Joey Young, as well as the property's head of maintenance to issue the formal warning. Restaurant representatives said they would obtain additional bins to handle the restaurant's trash.