Sloppy play leads to blowout loss for RedHawks baseball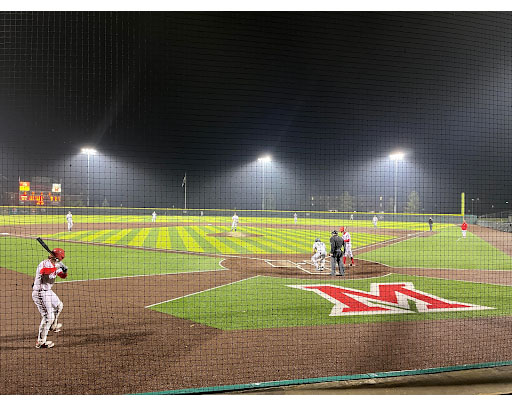 Miami lost the championship game of the Nuxhall Classic in a 17-2 blowout against Xavier University, April 5 at McKie Field. 
Damage was minimal going into the sixth inning with the RedHawks trailing the Musketeers 4-2, but Xavier was quick to take advantage of unforced errors by the RedHawks, tallying three more runs, putting the RedHawks into a five-run deficit. 
"It was not a good game for us, not a lot of positives to take away from that. We clearly have a lot of work to do,"  said RedHawks Coach Danny Hayden. 
The championship game was the last of five games in a five day game streak for the RedHawks. As fatigue began to wear on the team, Xavier pushed across the plate an additional seven runs in the ninth inning. The contest lasted a whopping three hours and 52 minutes.
RedHawks pitchers issued 16 walks and four hit batsmen, while the defense missed several opportunities to get off the field with limited damage. 
It wasn't all negative for Miami, as redshirt freshman Aaron Massie got his first career start. "It got the adrenaline pumping and it felt good to get out there," said Massie. 
The 6'2" right hander came off an injury last season and showed flashes of promise, striking out six batters in three innings. 
Freshman outfielder Zach MacDonald finished off his Nuxhall classic debut going 6-for-9 in the two games, with a 2-for-4 performance against Xavier. Miami infielder William Escala finished 2-for-3 including a triple and RBI.
Miami made its way into the 12th annual Nuxhall Classic Championship game by beating Wright State 15-12 in the semifinals on March 30, while Xavier earned its spot in the title game defeating the University of Cincinnati 10-6.
Xavier senior outfielder Andrew Walker was named tournament MVP as he and junior Tyler Demartino have propelled Xavier to a 15-15 record after starting the season winless in its first nine games.
"We started out rough going 0-9, but we played some tough opponents that really made us better. We've been playing some really good ball lately," said Demartino.
Xavier opens Big East Conference play against Seton Hall Friday, April 8.
Miami looks to improve on its 11-16 record, returning to Mid -American Conference play with a four-game weekend home series against Eastern Michigan starting April 9.