Miami freshman saves tennis team's winning streak in MAC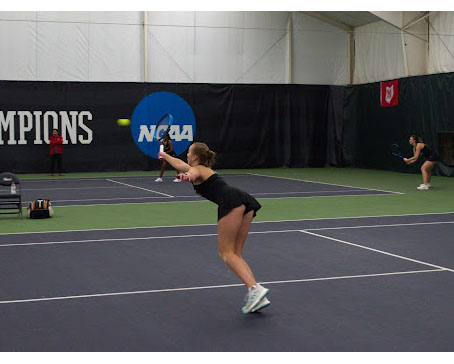 The entire tennis match rested on Miami RedHawk Emilia Valentinsson's shoulders.
As the freshman began her third and final set during the April 3 home match against Eastern Michigan University (EMU), the team score was tied 3-3. If she could defeat her opponent, EMU senior Vasavi Ganesan, Miami would win the match and continue its perfect record in conference play.
"I just kept thinking, 'I gotta win, I gotta win,'" the Malmo, Sweden native reflected following the match. 
Valentinsson's teammates roared every time she won a point. Eastern Michigan's team cheered for her every mistake. 
But each time the ball entered play, a hushed silence fell over the court as the teams and the crowd waited for the result. The anxiety and pressure could be seen on everyone's face. 
Everyone except the freshman from Miami.
"I focused on my coach. He was telling me to keep being aggressive and play the game like it's practice," Valentinsson said. 
As she struck home the final shot to win the match 5-7, 6-4, 6-3, Valentinsson, her teammates, and her coaches screamed with excitement as they ran together to celebrate their hard fought 4-3 victory.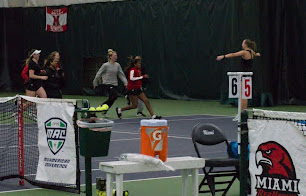 The RedHawks are now 6-0 in the Mid-American Conference (MAC), having won five matches in a row.
Coach Ricardo Rosas was proud of the way his young team fought through the pressure of the intense match. "Having so many freshmen be battle-tested was the most important thing," Rosas said. "I feel good about this group. They are a tough team to beat."
Valentinsson secured Miami's win with a grueling 2-1 victory. It was the longest match of the day, lasting until all the other singles matches had concluded. However, Valentinsson did not show signs of fatigue. Rosas said she thrives in battle.
"One of her qualities is that she is a fighter, she doesn't give up," Rosas said. "Today she had to believe that and apply it."
Valentinsson said it was her teammates who helped her fight through the difficult match.
"College tennis is all about the team," Valentinsson said, "All of them supporting you and you supporting all of them. It gives you great energy to take the big wins."
Earlier in the match, Miami won both doubles points against Eastern Michigan as the partnership of Brindtha Ramasamy and Laura Rico, as well as Sara Zalukar and Nishitha Saravanan were victorious. 
For their earlier efforts, Ramasamy and Rico were named MAC Doubles Team of the Week on March 31. The duo has been dominant in conference play by winning all five of their doubles matches in the MAC this season.
With the victory, the RedHawks' overall team record moved to 11-8. Miami travels to Muncie, Indiana to take on Ball State April 10.